Mercedes-Benz Concept B-Class E-CELL PLUS - Frankfurt Auto Show
by
KBB.com Editors
|
September 20, 2011 11:43 AM
An even greener variation on the new B-Class theme, the Mercedes-Benz Concept B-Class E-CELL PLUS is the automaker's first range-extended electric vehicle. This one-off precursor to a series of vehicles M-B plans to put into production in 2014 matches a 136 horsepower electric motor fed by a lithium-ion battery pack with a 1.0-liter/three-cylinder turbocharged gasoline engine that makes 67 horsepower and is capable of both generating electricity on the fly and adding its own motivational force to the driven front wheels via a new automatic transmission.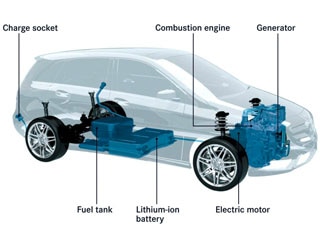 The operating parameters of this plug-in hybrid system are binary in nature. When the battery has sufficient charge, the E-CELL PLUS runs on pure electricity. When it reaches a certain level of depletion, the range-extender engine kicks in to provide motive force and sends any excess power to drive a generator that can help recharge the battery. Conditions permitting, the gas engine will be decoupled from the drive function at speeds below 37 mph. Beyond that pace, the engine works in parallel mode with the motor both to provide drive and generate electricity.
Mercedes says the Concept B-Class E-CELL PLUS can run 0-62 mph in about 11 seconds and hit 93 mph using either of its power sources. The car's advanced battery pack, which is produced by Deutsche Accumotive GmbH & Co. KG, a joint venture of Daimler and Evonik, nestles beside the fuel tank in a dedicated "Energy Space" beneath the rear cargo area. It can store enough energy to let the E-CELL PLUS travel about 62 miles on a single charge while the range-extender engine can stretch that interval to almost 375 miles before its time for a plug-in recharge and/or pump-in fill-up. Like all of its alternative brethren, the battery in the Concept B-Class E-CELL PLUS can be replenished using either a standard wall socket or dedicated quick changer. Mercedes also plans to fit production models with both remote access functionality and smart-charging/vehicle preconditioning capabilities.
Save for its white-and-copper exterior trim, more sophisticated drivetrain and dedicated instrument displays, the E-CELL PLUS is a B-Class at its core. In addition to maintaining uncompromised room for five, it offers all of the active and passive safety functions and other creature comforts of its conventional cousin. According to Thomas Weber, Member of the Board of Management at Daimler AG and responsible for Group Research and Mercedes-Benz Cars Development: "This innovative and highly flexible concept meets our customers' wish for emission-free driving coupled with a large range."