Mercedes-Benz A-Class Concept (w/video) - 2011 NY Auto Show
by
KBB.com Editors
|
April 8, 2011 1:52 PM
Providing a high-profile preview of its future smallest production model, the Mercedes-Benz Concept A-Class is set for simultaneous reveals at the Shanghai and New York Auto Shows. Although the volume-build version of the car M-B plans to put up against rivals like the Audi A3 and BMW 1 Series is destined to be toned down considerably from this free-thinking one-off, we're led to believe a fair amount of the basic style and technology will be part of the upcoming A-Class formula. To the extent that proves true, it will elevate this front-drive hatch well beyond its current status in the overall class hierarchy.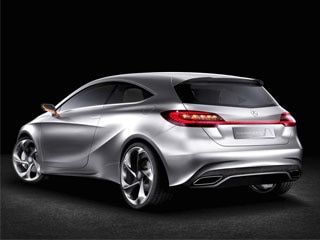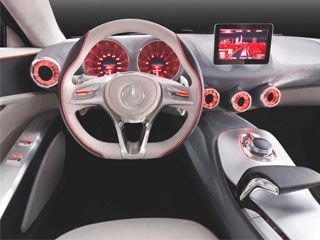 Citing wind, waves and aircraft design as key exterior styling influences, the Mercedes-Benz Concept A-Class reflects a bold intermingling of line, surface and contour from its low nose and long hood to its slim greenhouse and well-tailored tail -- variations on elements originally seen in the automakers F800 Style Concept that appeared at the 201 Geneva Auto Show. The hexagonal shape of detail elements found in its prominent grille also appears in the design of its alloy wheels while key illumination, front and rear, comes from LED lamp arrays.
Inside, the equally-expressive dash of the Mercedes-Benz Concept A-Class reflects an aviation motif: its wing-like contour coupled with special translucent stretchable fiber lining that allows the underlying structure to remain visible. Complementing the look are round air vents intended to mimic the appearance of jet afterburners, a center console with central display screen patterned after a flight control pans and a shift lever M-B says was meant to look like a "reverse thrust control." Laser-style magenta light lines are used to give the basic instrumentation a dramatic 3D appearance and the car features a multifunction controller as well as smartphone integration.
>2012 Chevrolet Sonic with Z-Spec accessories - 2011 NY Auto Show
>Nissan LEAF NISMO RC - 2011 NY Auto Show
>Lexus LF-Gh Hybrid Concept - 2011 NY Auto Show
Although Mercedes has yet to offer specifics on exactly what architecture underpins the Concept A-Class (and its subsequent production successors), it's believed to be an all-new platform. We do know that the one-off show car is powered by a turbocharged version of M-B's new M270 direct-injected four-cylinder BlueEFFICIENCY gasoline engine that also appears in the new C-Class. Tuned here to make 210 horsepower, it's backed by M-B's new dual-clutch automatic transmission.
As a final bit of trick tech, the Mercedes-Benz Concept A-Class is fitted with a radar-based collision warning system with adaptive Brake Assist, which lowers the risk of rear-end collisions. When engaged, it provides an "inattentive" driver with both visual and acoustic warnings while preparing the Brake Assist function to respond as necessary. Given M-B's emphasis on this being its first-ever fitment on a compact-class vehicle, expects it to appear as an option on the production A-Class, as well.
It remains to be seen exactly how much of the design and technology presented in this slick one-off really does makes it to the showroom. But if the show car is even in the neighborhood, things look pretty promising for the next-gen A-Class. Although a somewhat more conventional five-door hatch version with both gasoline and diesel power is slated to go on sale in Europe sometime late in 2012, there are currently no plans to bring any version of the redesigned Mercedes-Benz A-Class to America.