McLaren MP4-12C GT3 - Supercoupe gets a competitive edge
by
KBB.com Editors
|
May 9, 2011 1:43 PM
As promised, the stunning McLaren MP4-12C has spawned an equally impressive limited-production racing variant, the McLaren MP4-12C GT3. Although sharing all primary design characteristics and carbon-fiber construction with its road-going kin, this track-only iteration does have a number of unique elements to make it comply with rules that govern the FIA's GT racing class. Built by McLaren GT, a group that combines the development expertise of McLaren Racing, McLaren Automotive and veteran GT-racing specialists, CRS Racing, the new McLaren MP4-12C GT3 promises to be the most sophisticated vehicle ever to run in this production-based racing category.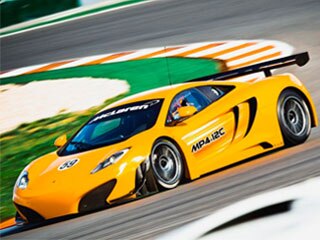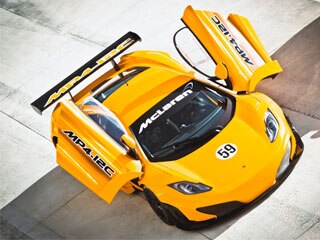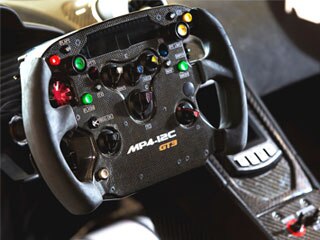 "We have worked with CRS Racing to ensure the 12C's design and development programme is as close as possible to one McLaren Racing would employ in developing a Formula 1 car," noted McLaren Group Chief Executive Officer, Martin Whitmarsh. As for its technical pedigree, Whitmarsh points out that: "The 12C GT3 will be supplied with the 12C's carbon MonoCell and the same steering wheel design employed by Lewis Hamilton in his MP4-24 Formula 1 car. Plus, we are working closely with Formula 1 suppliers past and present: Akebono, Mobil 1, McLaren Electronic Systems, Ricardo and Michelin. This blend of road car and Formula 1 technology and experience will be a great advantage to anyone racing a 12C GT3 in 2012."
While both McLaren MP4-12C iterations carry a 3.8-liter twin-turbo M838T V8 amidships, the more-restricted GT3 configuration makes 493 horsepower, about 100 less than the engine in the street car, and uses a dedicated TAG-400 engine management/data logger system. The racing variant also swaps the road car's heavier Graziano-sourced seven-speed Seamless Shift sequential dual-clutch transmission for a bespoke six-speed paddle-shifted racing transmission developed in partnership with automotive specialist Ricardo, who also worked with McLaren on the GT3's powerplant modifications. The suspension gets its own GT-spec redo, replacing the street car's Pro-Active chassis bits with a more conventional race-spec alternative and huge Akebono disc brakes with Bosch ABS, plus Michelin racing tires on 18-inch forged alloy wheels. While GT rules permit only modest variations to the bodywork, all changes to the McLaren MP4-12C GT3's configuration -- from its unique front splitter and fender louvers to the large rear wing and diffuser -- have been fully optimized using F1-style computational fluid dynamics (CFD) and ultimately validated by time spent in the McLaren Simulator as well as during shakedown runs at a variety of European circuits.
The McLaren MP4-12C GT3 will continue to undergo an extensive factory development program in 2011 prior to the build and homologating of 20 GT3 customer cars for privateer use in 2012. CRS Racing Team Principal Andrew Kirkaldy, 2010 Vodafone McLaren Mercedes test driver Oliver Turvey and Portuguese racing driver Álvaro Parente have been tabbed to handle driving duties during this abbreviated season, which will start with its debut outing later this month in the Blancpain Endurance Series race at Spain's Circuito de Navarra followed by events at Magny-Cours in France and Silverstone in England. The team also plans to enter the MP4-12C GT3 in the Total 24 Hours of Spa endurance contest. Check out the video for a quick but informative look at both the street and race versions of this mighty McLaren in action.