Mazda's 'SKYACTIV' future promises big MPG gains, lower emissions
by
KBB.com Editors
|
October 22, 2010 12:53 PM
Although Mazda says U.S customers will have to wait about 12 more months to get their first taste of its next-generation of ultra-efficient vehicle design, the automaker is planning to introduce the initial round of its revolutionary "SKYACTIV" hardware in Japan next spring. It will be used in the subcompact Mazda Demio, which recently went on sale here as the Mazda2. Originally presented at the 2009 Tokyo Motor Show under the Mazda "SKY" banner, this new approach to gasoline and diesel engines, body structure and chassis design has been collectively renamed "SKYACTIV" and will serve as the cornerstone of Mazda's Sustainable Zoom-Zoom philosophy in the years to come.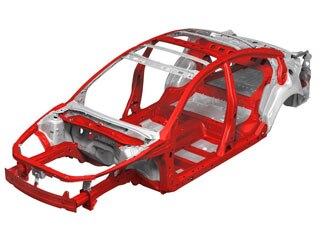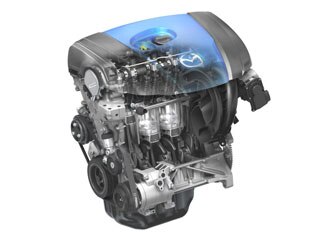 Rethinking powertrain parameters
Both the SKY-G gasoline engine and the SKY-D turbodiesel are state-of-the-art inline-fours that employ fully-scalable technology. Incorporating direct fuel injection, electronic variable-valve timing, numerous optimized internal components, advanced computer controls and a stratospheric 14.0:1 compression ratio, the SKY-G is designed to deliver 15 percent greater fuel economy and 15 percent lower emissions than a conventional counterpart. The 1.4-liter version that will appear in the Demio is expected to return up to 70 mpg on the highway. A Mazda source indicated that the first SKY-G engine we'll see here will be a 2.0-liter that develops roughly 160 horsepower. Destined for use in the Mazda3, it should help that high-volume model earn EPA city/highway numbers in the 30/40 mpg range -- and significantly brighten Mazda's overall CAFE status.
The new SKY-D offers similarly impressive mechanical credentials. Using a new dual-stage turbocharger coupled with an incredibly low (for a diesel) 14.0:1 compression ratio, variable valve lift and lots of weight/friction reducing components, the SKY-D is designed to offer 20 percent more output than existing turbodiesels while producing 20 percent fewer tailpipe emissions. The 2.2-liter version makes about 175 horses but over 300 lb-ft of torque that it delivers over an extremely wide rev band. Equally impressive, its reduced compression ratio allows the SKY-D to meet all U.S. smog requirements without any kind of downstream exhaust add-ons. Likely to find its first home in the 2013 Mazda6, the SKY-D is expected to deliver 30+/40+ mpg on the EPA's city/highway cycles.
To complement the new SKY engines, Mazda has created an equally sophisticated pair of transmissions specifically for front-drive applications. The compact, lightweight six-speed SKYACTIV-Drive automatic offers four to seven percent gain in fuel economy thanks to its dramatically widened lock-up range that improves torque transfer efficiency. With similar physical attributes, the six-speed SKYACTIV-MT manual gearbox offers superior shift feel and better packaging potential as well as better economy due to significant reductions in internal friction.

Seeing the light
An equal measure of Mazda's SKYACTIV sensibility extends to the structure and underpinnings of all of its future products. The next-gen design bogeys aim at boosting basic body rigidity by 30 percent and significantly improving crash protection capabilities while reducing mass by eight percent. Keys to reaching that goal include expanded use of high-strength steel and improved material bonding techniques coupled with new "straight structure" and "continuous structure" integrated design approaches. Suspension systems are also set to go SKYACTIV with newly developed front strut/rear multilink setups that are 14 percent lighter and also offer improved ride and handling characteristics.