A Long-Time Favorite Says Goodbye to Shortcomings
Exceptionally stylish and fun from day one, the Mazda3 was completely redesigned last year and now boasts the most attractive interior in the class, excellent fuel economy and an infotainment system as good as you'll find in any of its competitors. Every key weakness we've had to forgive in previous models was turned into a strength. Highway ride might be a bit stiff for some — the typical compromise for more responsive handling — but if good looks and big fun are at the top of your compact car wish list, the well-rounded Mazda3 will blow you away with everything else it offers.
Driving It
"The 2015 Mazda3 is both fun and fuel-efficient, thanks to Mazda's Skyactiv chassis and powertrain technology. With its enthusiastic engines and satisfying steering and brake feel, the Mazda3 is sportier than nearly all its rivals." Find out more in our 2015 Mazda3 full review.
Feature Highlight
The pop-up, head-up display is cool (you can see it in the background of the image below), but the free-standing display with attractive graphics plays a bigger role in transforming the Mazda3's interior into one of the category's most appealing.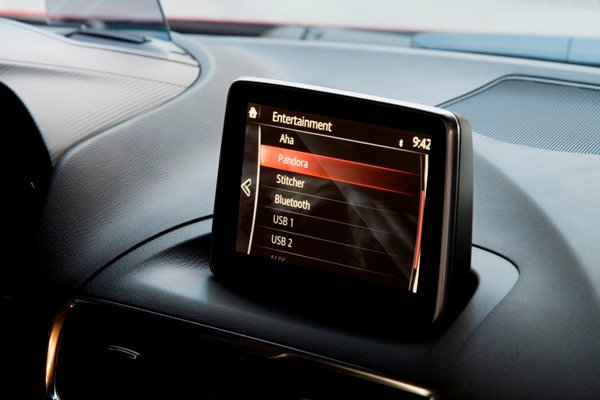 Awards
On the strength of its recent redesign, the Mazda3 returned to its rightful spot atop our most recent list of 10 Coolest Cars Under $18,000. The Mazda3 has held a spot on that list every single year since it debuted for the 2004 model year.
What's New
For 2015 the 7-inch display is made standard on all but the base model Mazda3, and the more powerful 2.5-liter engine is now available in conjunction with the manual transmission.
Shapes and Sizes
The 2015 Mazda3 is available in a choice of 4-door (sedan) or 5-door (hatchback) body styles, with a 155- or 184-horsepower 4-cylinder engine — i and s models, respectively — and a 6-speed manual or automatic transmission. The most popular version is a 2014 Mazda3 i Touring 4-door with an automatic transmission, with a sticker price shy of $22,000 (including destination) and impressive city/highway fuel economy of 30/41 mpg. Mazda says more than two in three Mazda3 buyers in America choose the sedan.
Build and Price
2015 Mazda3 sticker prices range from just under $18,000 with cheap steel wheels and no Bluetooth connectivity, to around $29,000 with leather seats, navigation and some impressive class-exclusive features like adaptive cruise control. But those are sticker prices. Build and price your own 2015 Mazda MAZDA3 to unlock this week's Kelley Blue Book Fair Purchase Price, 5-Year Cost to Own and more.
Long-Term Look
We recently added a 2015 Mazda3 to our long-term vehicle fleet. We have only just begun to get acquainted with the sedan, but are looking forward to the next year with it.
More Compact Cars
Other fun-to-drive favorites include the Euro-rooted Ford Focus, plus the Volkswagen Jetta and new-for-2015 Golf. But don't make a move without first visiting our Compact Car Buyer's Guide, where you'll become an instant expert on the category.
2015 Mazda3 Gallery: Inside and Out