2016 Mazda Mazda3 Buyer's Guide
By Jason Allan on December 11, 2015 5:49 AM
Gorgeous Inside, Outside and Everywhere Else
Exceptionally stylish and fun from day one, the third-generation Mazda3 now boasts the most attractive interior in the class, excellent fuel economy and an infotainment system as good as you'll find in any of its competitors. Highway ride might be a bit stiff for some -- the typical compromise for more responsive handling -- but if good looks and big fun are at the top of your compact car wish list, the well-rounded Mazda3 will blow you away with everything else it offers.
Driving It
"With a peppy engine and satisfying steering and brake feel, the Mazda3 is among the most fun-to-drive cars you can buy for under $20,000. More impressive, this 5-passenger compact sedan and hatchback don't compromise ride quality, fuel efficiency or practicality for performance." Find out more in our 2016 Mazda3 full review.
Feature Highlight
The pop-up, head-up display is cool (you can see it in the background of the image below), but the free-standing display with attractive graphics plays a bigger role in qualifying the Mazda3's interior as one of the category's most appealing.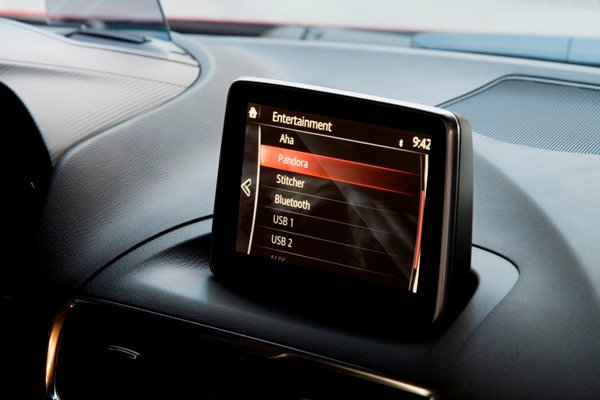 Awards
On the strength of its most recent redesign, the Mazda3 returned to its rightful spot atop our most recent list of 10 Coolest Cars Under $18,000. The Mazda3 has held a spot on that list every single year since it debuted for the 2004 model year.
Shapes and Sizes
The 2016 Mazda3 is available in a choice of 4-door (sedan) or 5-door (hatchback) body styles, with a 155- or 184-horsepower 4-cylinder engine — i and s models, respectively — and a 6-speed manual or automatic transmission. The most popular version is a 2016 Mazda3 i Touring 4-door with an automatic transmission, with a sticker price just over $23,000 (including destination) and impressive city/highway fuel economy of 30/41 mpg. Mazda says more than two in three Mazda3 buyers in America choose the sedan.
Compare and Contrast
The current-generation Mazda3 went up against some heavy hitters in the compact car segment. See how it fared as seven compact cars were put to the test on Interstates, twisty roads and along the Southern California coast.
Build and Price
2016 Mazda3 sticker prices range from just under $19,000 to around $30,000 with leather seats, navigation and some impressive class-exclusive features like adaptive cruise control. But those are sticker prices. Build and price your own 2016 Mazda Mazda3 to unlock this week's Kelley Blue Book Fair Purchase Price, 5-Year Cost to Own and more.
Long-Term Look
Our long-term vehicle evaluation fleet currently includes a manual transmission-equipped Mazda3 sedan coated in gorgeous Soul Red paint. There's still no substitute for living with a car, and in our time with the Mazda3 we've been able to dig a little deeper into the Mazda Connect infotainment system and the sedan's adequate cargo accommodation. We also took it on a road trip up the California coast.
More Compact Cars
Other fun-to-drive favorites in the segment include the Euro-rooted Ford Focus, plus the Volkswagen Jetta and Golf. But don't make a move without first visiting our Compact Car Buyer's Guide, where you'll become an instant expert on the category.
2016 Mazda3 Gallery: Inside and Out