Mazda Takeri Concept/i-ELOOP - 2011 Tokyo Auto Show
by
KBB.com Editors
|
November 30, 2011 1:32 PM
Strongly rumored to be a de facto precursor to the next-generation Mazda6, the Mazda Takeri Concept turned up in Tokyo as promised. Wrapped in bodywork that embraces the automaker's new "KODO-Soul of Motion" design language, this sleek four-door, mid-size sedan has an elegantly tailored yet evocative appearance that we look forward to seeing transfer into production form largely intact. Although a good deal of its four-place cabin treatment may remain in the realm of a show car, the Takeri Concept also incorporates the full range Mazda's new mass-reducing/efficiency enhancing SkyActiv technologies - engine, transmission, structure and suspension - fundamental building-block elements that also bode well for the upcoming Mazda6.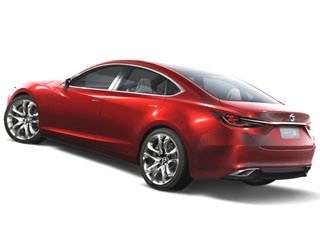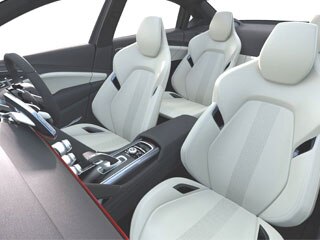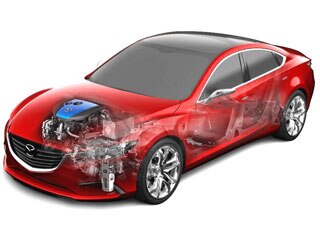 While its new Sky-D 170-horsepower/2.2-liter four-cylinder turbodiesel engine is projected to make some fairly impressive mpg numbers on its own when paired with either the six-speed Sky-MT manual transmission or Sky-Drive six-speed automatic that was fitted here, Mazda used the Takeri to offer a look at an innovative new type of regenerative braking system it calls "i-ELOOP" an acronym that stands for Intelligent Energy Loop.
Unlike conventional regenerative braking systems on a typical hybrid that rely on a motor/generator and battery to assist in the transition of kinetic energy into electricity, Mazda's i-ELOOP uses a unique a low-resistance Electric Double Layer Capacitor (EDLC) teamed with a 12 to 25 volt variable-voltage alternator and a DC/DC converter to start generating power the moment a driver lifts off of the accelerator. The first such type of regen system to be offered on any vehicle, the i-ELOOP capacitor can be fully charged in seconds, and then send its electricity directly off to power the climate control, audio system and other in-vehicle components.
Working in concert with Mazda's recently introduced i-Stop idling-stop technology; i-ELOOP reportedly can boost fuel economy by up to 10 percent, and is resistant to deterioration through prolonged use. Mazda plans to start deploying this mileage-maxing technology in its vehicle line-ups starting in 2012. So far, no official word on plans to introduce it on U.S. models; however, inside sources indicate that it will almost certainly turn up here at some point.