Mazda SKYACTIV Powertrain Tech Review
by
KBB.com Editors
|
August 8, 2011 1:24 PM
Five years in the making, Mazda is at last preparing to bring its advanced SKYACTIV suite of design technologies to market. Developed as part of its "Sustainable Zoom-Zoom" strategy and based around a series of dramatic improvements to the engine, transmission, body structure and suspension, the automaker foresees SKYACTIV thinking as the gateway to meeting its decidedly ambitious goal of increasing the overall fuel efficiency of its global fleet by 30 percent in 2015 compared to 2008 levels and reducing the curb weight of each next-generation model in its lineup by approximately 100 kilograms (220 pounds).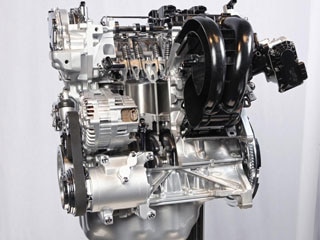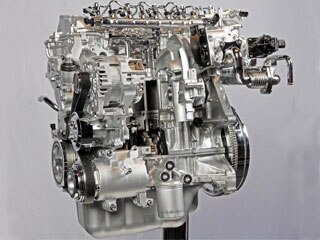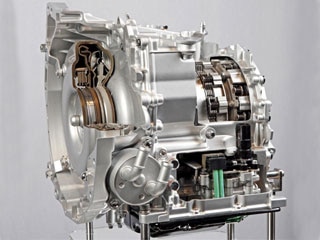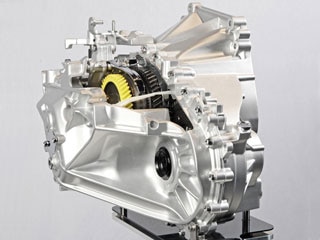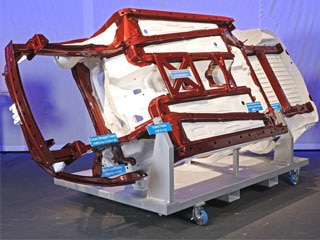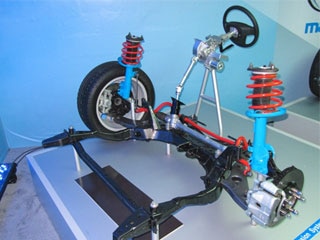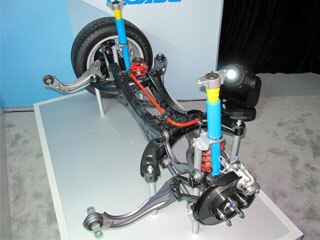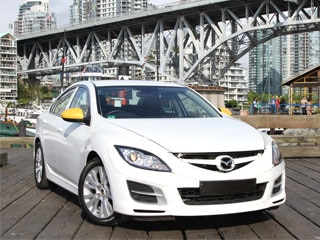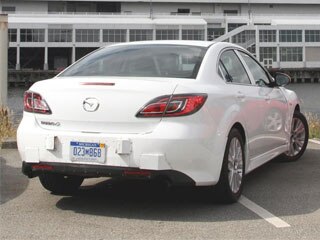 Later this year, Mazda will introduce the first elements of SKYACTIV powertrain tech in the revamped 2012 Mazda3 that goes on sale here in October. In the spring, the all-new CX-5 crossover that makes its debut at Frankfurt will showcase all four SKYACTIV building blocks to the max. Although Mazda has previously shared a number of top-line data points regarding the merits of various SKYACTIV elements, it wasn't until last week that we got our first chance to evaluate this breakthrough engineering approach from behind the wheel of several engineering prototypes. Before examining how SKYACTIV all comes together as in a synergized system, let's take a closer look at what constitutes each of its individual building blocks.
Exploiting the power within
Initially, SKYACTIV motivation will come in two all-new forms, the 2.0-liter SKYACTIV-G gasoline engine and the 2.2-liter SKYACTIV-D turbodiesel. In addition to design optimization that yields a 10 percent reduction in the weight of each, both share several common characteristics that help increase relative fuel economy by some 15-20 percent compared to their respective conventional counterparts. Heading that list are benchmark-setting 14:1 compression ratios (in international trim), significant reductions in internal friction (20 percent less in the SKY-G and 30 percent less in the SKY-D) and advanced electronic control of the entire combustion process to ensure they're as squeaky clean as they are stunningly efficient.
To further help its cause, Mazda's engineers fitted the naturally aspirated/direct-injected 2.0-liter SKY-G with numerous advanced touches. Bolstering its ultra-high compression ratio (which will be reduced to 13:1 in North American trim to allow the use of regular unleaded fuel), the SKY-G is fitted with multi-orifice/dual-pulse injectors and features unique piston crown designs to promote quicker and more complete ignition of the air-fuel mix. Dual Sequential Valve Timing (dual-SVT) on both the intake and exhaust side further optimizes airflow and cuts pumping losses upstream while a trick 4-2-1 exhaust header does its part to clear the cylinders and lower their respective temps to prevent "knocking." The net result is an engine that's projected to make some 155 horsepower and 148 lb-ft of torque and back its 15-percent bump in fuel economy -- think hybrid-like 40+ highway mpg in a Mazda3 -- with roughly 15 percent more torque and 15 percent lower CO2 emissions.
Not to be outdone by its gasoline cousin, the SKY-D turbodiesel will arrive with its own bag of techno tricks, highlighted by its ultra-low compression ratio -- the lowest in any current diesel passenger car engine. This advance yielded numerous benefits, starting with reduced combustion pressures that led to lightweight aluminum being used for both the head and block along with the fitment of less-massive internal components. The lower CR also permits fully optimized combustion timing, a change that creates a greater expansion ratio that further adds to its overall operating efficiency.
Other neat SKY-D touches include advanced multi-orifice piezo injectors and ceramic glow plugs, a variable valve lift system on the exhaust that acts as an internal EGR system to bring the engine up to temperature more quickly and cleanly on cold starts and a trick two-stage turbocharger that minimizes lag and delivers more direct throttle response all the way up to the SKY-D's lofty 5,200 rpm redline. In addition to making 170 horsepower and 310 lb-ft of torque, the SKY-D delivers better low- and high-end torque than Mazda's current 2.2-liter turbocharged oil-burner, drinks 20 percent less diesel fuel, makes 20 percent less CO2, and is expected to net 43 mpg on the highway in C/D-segment cars. Equally important, it's pristine enough to meet stringent Tier II Bin5 emissions requirements without any downstream catalyst or other type of supplemental urea-style exhaust treatment for NOx.
Shifting into overdrive
Backing Mazda's new SKYACTIV engine duo are a pair of equally advanced and application-optimized transmissions, each offering six speeds, more compact external dimensions, lower unit weight and better efficiency than the cog-changers they supplant. Comprehensively redesigned internals allow the new SKYACTIV-Drive automatic to meld the best characteristics of a conventional autoshifter, a CVT and a dual-clutch transmission to deliver quicker but smoother shifts while reducing performance-robbing slippage.
To reach those goals, Mazda fitted the SKY-Drive with a smaller torque converter linked to a new multi-disc clutch pack and developed an even more efficient integrated electronic controller to better command the shift mapping and engagement schedule. In addition to providing full lockup capability in all gears, the new SKY-Drive unit makes far more extensive use of that potential, upping the lock-up clutch ratio from 64 percent in the current five-speed automatic to 88 percent. Fitted with a manual-style sportshift gate, the SKYACTIV-Drive trans delivers more refined start-offs and provides more direct feel once the car is in cruise mode -- all while serving up a 4-7 percent gain in fuel economy.
Those who prefer to shift for themselves will find an equal measure of good news in the SKYACTIV-MT manual. New internal architecture helps trim mass and simplify operation but the most tangible benefit comes from enhancements to the external linkage. Mazda wanted to endow this cable activated front-drive setup with the same kind of light-but-positive feel as the rod-actuated linkage in the rear-drive MX-5. A special modular mechanism relies on the force of gravity and various other friction-reducing touches to do just that. As a final flourish, the shift-throw length also was reduced from 2.0 to 1.8 inches.

Remaking the inside game

Providing the foundation for Mazda's revolutionary approach to 21st Century car design, the new SKYACTIV-Body fully embraces the "lighter plus stronger equals better" mentality. Electing to pass on the wholesale use of exotic but costly composites to increase rigidity, trim weight and maximize occupant safety, Mazda instead chose to significantly raise the percentage of high-strength steel in the unit body mix -- from 40 to 60 percent -- while adopting new and more-efficient structural engineering methods and substituting lighter materials where feasible. Those focused rethinks ultimately led to an eight-percent reduction in its weight and a 30-percent increase in overall rigidity. Fundamental to this redesign process was the adoption of more robust bonding/welding techniques to join individual elements, the implementation of full-length frame rails and the use of continuous ring-structures along with new and far more effective crash/crush structures around the passenger cabin.
A gripping tale in the making
Final ingredient in Mazda's formula for its new-era motoring future is the SKYACITV-Chassis. Conceived to deliver what it calls a "Jinba Ittai" feeling -- literally a fun-to-drive oneness with the vehicle -- the SKY-Chassis design incorporates elements that improve overall dynamics at all speeds to enhance control without hammering ride compliance. In keeping with the bigger SKYACTIV picture, it also manages to trim 14 percent out of the total component mass. Working in consort with the far-stiffer unit body, optimized subframes provide even more precise anchor points for the revised front strut/rear multilink hardware and a new and quicker-ratio power steering setup that replaces conventional hydraulic assist with more-efficient electric boost. The other fundamental SKY-Chassis change involves comprehensively revamped geometry at both axles that improves grip and agility while curtailing dive motions under heavy braking and rerouting road impacts away from rather than into the body structure.
Driving towards tomorrow
To find out what a difference this potentially game-changing design revolution makes, Mazda turned us loose in a mixed bag of evaluation vehicles -- all Mazda6s of some stripe. This mini fleet included a left-hand drive Canadian-spec car with a 2.5-liter gas engine and a right-hand-drive Japanese-spec 2.2-liter turbodiesel plus four extremely early right-hand-drive prototype mules that had all of the key SKYACTIV system elements concealed beneath an assortment of cobbled-up body panels. While our time behind the wheel in each was limited and none of it took place anywhere near the limit, this real-world experience on public roads outside of Vancouver, British Columbia, did afford some meaningful insights.
On the powertrain front, both the SKY-G and SKY-D engines delivered the goods, whether backed by the SKY-Drive or SKY-MT transmissions. Despite giving away a half liter of comparative displacement, the SKY-G engine in this far-lighter package felt impressively quick and enthusiastically responsive while the new SKY-D with its bounty of torque was simply one step beyond its current counterpart in virtually all performance areas. The SKY-Drive automatic proved fully equal to the new task at hand -- and offered the added benefit of rev matching on manually-selected downshifts. However, it was the linkage upgrades on the SKY-MT that made the most profound first impression, delivering quicker and cleaner gear changes with far less effort than the existing setup.
While we'll reserve judgment on Mazda's new electric power steering system until we get a chance to experience how it feels in final production form, there's no question that the SKYACTIV-Body/Chassis combo adds a new and very welcome dimension to the mix. Excellent road feel and sharpened reflexes are complemented by improved roll control and even better overall ride compliance, elements that bode well for the future success of the SKYACTIV philosophy -- as well as for Mazda itself.