Maybach name, flute holders return in new Mercedes-Maybach S-Class
by
Jason Allan
|
February 24, 2015 8:41 AM
An even longer, more luxurious S-Class designed for buyers who'd rather ride in style than be burdened with the driving.
Go tell your head chauffeur the Maybach name is back. Then ask him to read the rest of this review to you.
The last time we saw the Maybach name, it was attached to a vehicle designed as a direct answer to the best from Rolls-Royce and Bentley. Maybach didn't work out as a standalone brand, but China and the rest of the world need more ultra-lux, chauffeur-driven transports than ever. So now Mercedes is offering a bigger, richer S-Class distinguished by the Maybach name.
With the Mercedes name and S-Class roots, the Mercedes-Maybach S600 won't always convey the same sense of exclusivity as would a Rolls-Royce, for instance, but Mercedes says it offers similar levels of luxury. Indeed, during the thorough back-seat evaluation we conducted while being chauffeured from Santa Barbara to Santa Maria wine country on a picture-perfect California day, it was hard to imagine over-the-road transportation getting any better.
Let's have a look at what kind of backseat a starting price of $190,000 will buy you nowadays.
Super Seats
The rear seats of the even bigger and fancier S-Class offer double the rear knee room as the version built for the second one percent. Seat highlights include reclining seatbacks and deployable foot rests, a massage function based on hot-stone principles, and curiously comfortable pillows. And no more fussing to fasten your seatbelt, thanks to anchors that automatically rise from the cushions for easy access.
Smells Like Money
The latest Mercedes-Benz S-Class offers an automotive aromatherapy feature, but the Mercedes-Maybach version takes it a step further with an exclusive scent: Agarwood. Agarwood, of course, is the main ingredient in $1,000 bills.
Turn Down the Sun
The Mercedes-Maybach S-Class is the first vehicle to offer a panoramic moonroof with the automaker's awesome Magic Sky Control feature. With the press of a button the glass changes from lightly tinted to darkly tinted, letting passengers turn down the noon sun or turn up the evening stars.
Backseat Bar
You're no doubt aware that more than half of the 200 largest yachts in the world carry silver from Robbe & Berking, so you'll find it noteworthy that the Mercedes-Maybach S-Class also offers two sterling silver champagne flutes handcrafted by the German silversmiths. And because cupholders were designed for holding Big Gulps and iced lattes, the Mercedes-Maybach includes special flute clips.
20/20 Ride Comfort
There are plenty of active suspensions out there, but Mercedes' Magic Body Control with Road Surface Scan -- "the world's first suspension with eyes" -- actually watches the road ahead to more proactively smooth out potholes, speed bumps and other inconveniences that could cause a champagne mishap.
Sound and Silence
What you hear and what you can't are both highlights of the Mercedes-Maybach experience. The high-end Burmester sound system is unsurprisingly rich, phone calls sound clearer with HD Voice technology, and your chauffeur's measured inquiries are easier to hear thanks to the passive intercom system. Elevating all the auditory excellence is the fact that the Mercedes-Maybach offers the quietest rear seat of any production sedan, according to the automaker.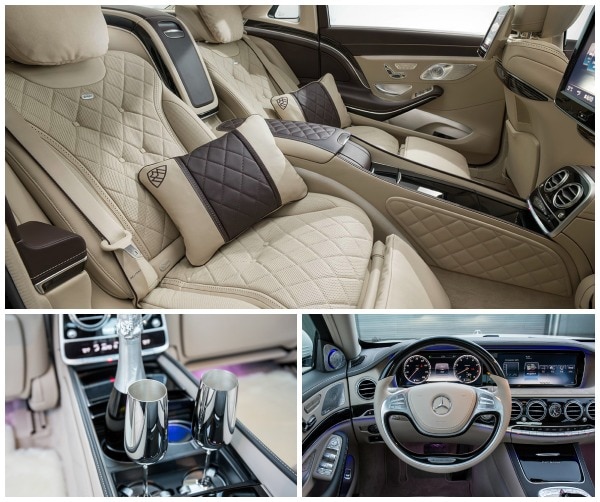 Seatbelt Airbags
Don't you hate it when a seatbelt saves your life but injures your chest? It's a fair trade, but with the Mercedes-Maybach's seatbelt airbags it doesn't have to be an either/or proposition. The airbag spreads the force across more of your body and better prevents unwanted body movement.
And isn't it also annoying when you're reclined in the backseat, power-napping on the way to a hostile takeover, and in the back of your head you keep thinking, "If we get in an accident, I might slide right under this seatbelt?" In the back of the Mercedes-Maybach you'll rest easier knowing that under the front of your seat cushion is an airbag that will pop up in an effort to prevent that from happening.
More Backseat Amenities
Rear thermo cup holders help keep drinks cool or warm. Stowable tables like those on an airplane have leather inserts "to provide a comfortable writing surface." And the rear window shades protect passengers from "prying eyes and direct sunlight." But if you prefer a darker, lonelier existence, try not to get rich or famous in the first place.
(Technical Details for Your Chauffeur)
Lurking confidently beneath the hood of the Mercedes-Maybach S600 is a 6.0-liter biturbo V12 engine providing effortless access to 530 horsepower, 5-second runs to 60 mph and an electronically limited top speed of 155 mph. In short, it's got plenty of juice for you and the old man.
Mercedes-Maybach Outlook
According to the Mercedes-Maybach mathematicians, in 2014 there were 211,275 people in the world who controlled $30 trillion. That's an average of $142 million each. By 2019 they expect 250,000 people to control an average of $160 million each. (They wouldn't tell us how many automotive journalists would help make up the new number, but we've begun looking at new refrigerators just in case.)
When you look at it from that perspective, the 2016 Mercedes-Maybach S600's $190,000 starting price seems trivial.
As do most other cars in the world.