Lotus reveals Elise and Exige Final Editions for U.S
by
KBB.com Editors
|
August 5, 2011 1:19 PM
A storied chapter in the modern sports car era ends this month -- at least for American buyers - when production ceases on fed-spec versions of the Lotus Elise and Lotus Exige. The endgame here is being precipitated by "the lack of continued availability of the 1.8-liter 4-cylinder Toyota 2ZZ engine" currently used in these models. However, to make sure their departure takes place with suitable élan, Lotus is preparing three very limited edition models for this market: the 2011 Lotus Elise SC Final Edition, the 2011 Lotus Exige Matte Black Final Edition and the 2011 Lotus Exige S260 Final Edition.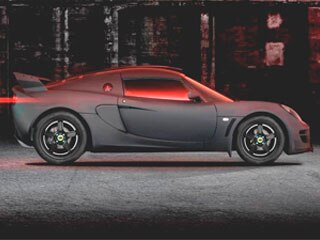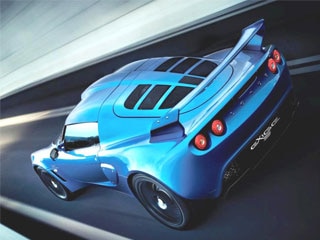 The rarest -- but surprisingly most affordable -- of this high-profile power trio is the 2011 Lotus Elise SC Final Edition. Available in Ardent Red, Aspen White, Carbon Grey and Chrome Orange, only 15 copies of this 218-horsepower supercharged roadster will be built, each commanding $58,625 -- a price that reflects about $3,000 of added value. Beyond all of the standard kit included in the Elise SC, the Final Edition boasts unique matte-black exterior accents that extend to its normally optional standard hardtop as well as the Touring Pack interior enhancements, Lotus Traction Control System (TCS) and a limited-slip differential.
Enthusiasts seeking a bit more firepower will find it the 2011 Lotus Exige Matte Black Final Edition. Lotus will build 25 of these super-stealthy coupes, all with the 257-horse supercharged/intercooled 1.8-liter from the Exige S260 and special Matte Black paint. Each of the cars will come with the Sport Pack (TCS, steel rollover hoops, adjustable front anti-roll bar, ProBax sport seats) and Track Pack (track suspension with adjustable shocks and ride height) as well as a limited slip differential and the various interior upgrades included in the Touring Pack. Priced at $71,024, the Exige Matte Black Final Edition offers over $5,300 in extras in addition to its exclusivity.
Rounding out this elite cadre is the 2011 Lotus Exige S260 Final Edition. Based on the Exige S240 and limited to 30 units, it retains the standard fiberglass body bits in place of the S260's pricier carbon fiber components but does carry the S260's more potent 257-horsepower supercharged engine. Like its Exige Matte Black runningmate, the Exige S260 Final Edition also includes the Sport Pac, Track Pack, limited-slip differential and Touring Package in its $68,625 base price. Unlike the Matte Black variant, the 2011 Lotus Exige S260 Final Edition will be available in all standard Lotus Exige colors and also offer the Lifestyle and Premium paint finishes as options.