Lotus Eterne Concept -- Paris Auto Show
by
KBB.com Editors
|
October 11, 2010 11:25 AM
Perhaps the biggest -- literally and figuratively -- surprise on its Paris stand was a front-engine/rear-drive four-door/four-seat sports GT, the Lotus Eterne Concept. Due to join the production lineup in spring 2015, it will take the automaker into an entirely new segment that will see it vie for buyers who might now be considering cars like the Aston Martin Rapide and Porsche Panamera. Based on current exchange rates, the 2015 Lotus Eterne is expected to open somewhere around $235,000.
Also sporting the firm's new-gen styling language, the Eterne is spun from a lengthened version of the aluminum-intensive platform used to underpin the 2014 Lotus Elite that was on display, as well. Like the Elite, this new super saloon will use a Toyota-sourced/Lotus-tweaked 5.0-liter V8 bolstered by either supercharging or turbocharging to make 550 horsepower in standard form or 612 horsepower in hybrid form, the latter adding a dedicated KERS (Kinetic Energy Recovery System) package -- including a transmission that incorporates a pair of electric motors -- transitions the Eterne from rear-drive to an all-wheel-drive configuration. Preliminary factory specs claim the 3,968-pound Eterne will sprint from 0-60 mph in 4.0 seconds and have a top speed of 196 mph.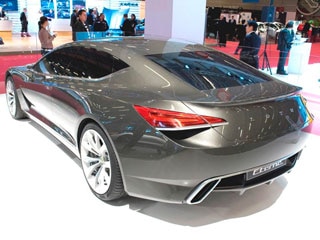 >2010 Paris Auto Show Home
>Mini Scooter E Concept - Paris Auto Show
>Lotus Esprit Concept -- Paris Auto Show

Although unprecedented in its corporate history, Dany Bahar, chief executive officer of Group Lotus, feels confident that the revolutionary Eterne will bring a unique and very distinctive presence to the market. "There is nothing else like it out there both in terms of design, capacity and performance. The biggest difference between the Lotus Eterne and its class competitors is that it's not an evolution of an existing two-door model, it's a deliberate and considered stand-alone creation. It's the ultimate four door sports car."