Lotus Esprit Concept -- Paris Auto Show
by
KBB.com Editors
|
October 8, 2010 1:33 PM
Star of an expansive future product assault that it revealed in Paris, the Lotus Esprit Concept presages a production variant that's set to arrive in the spring of 2013. Like its predecessor, the new Esprit is a two-seat, mid-engine/rear-drive supercoupe. But this ultimate "redefinition" of the marque's flagship offering boasts a new corporate face to go along with its powerfully sensual styling and introduces several new techno touches, including the optional availability of hybrid power.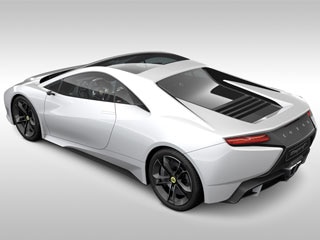 In introducing the car, Dany Bahar, chief executive officer of Group Lotus, noted that: "One has to be very careful when taking on the challenge of reinventing such an iconic classic as the Esprit -- everyone has an opinion. There's a fine balance between acknowledging the greatness of the past while at the same time rapidly leaping forward to the future and ensuring that this car not only does the name Esprit justice but also the Lotus brand. I think we've managed to find the balance and in doing so created a new icon, a car people will find hard to resist."
>2010 Paris Auto Show Home
>2014 Lotus Elite -- Paris Auto Show
>2011 Honda Jazz Hybrid - Paris Auto Show

Although a number of details have yet to be disclosed, the car will be based on some variation of aluminum monocoque structure that has become a Lotus signature element and feature alloy body panels. Bahar did confirm that this new-gen Esprit will be fitted with a Toyota-sourced but Lotus-tweaked 5.0-liter supercharged V8 that will make 542 horsepower and 531 lb-ft of torque in its conventional form and up to 612 ponies when fitted with a Formula One-derived KERS (Kinetic Energy Recovery System) R-spec upgrade. In either configuration, the engine will be mated to a seven-speed dual-clutch automated manual transmission. Curb weight of the new Lotus Esprit is projected at 3,197 pounds. In its ultimate hybrid form, this scintillating sportscar will be able to hit 62 mph in 3.4 seconds and reach a top speed of 205 mph.
Bahar, who recently departed Ferrari to take over as top exec of the British-based but Malaysian owned automaker, was unabashedly enthusiastic about the potential he sees in this nascent family member. "Not only does the Esprit look incredible but it has the performance to match. We've stuck to the Lotus core values of performance through lightweight and teamed them with future technology and exceptional engineering to ensure that the Esprit will be the leader of the pack. The design is aggressive, you have to see it to appreciate how low and wide the proportions are but it still retains a level of dignity, of class and most of all exclusivity." Final pricing has yet to be determined, but expect the 2013 Lotus Esprit to start around $175,000 when it finally does go on sale.