Lexus LF-Gh Hybrid Concept - 2011 NY Auto Show
by
KBB.com Editors
|
April 12, 2011 1:46 PM
The boldest exercise yet in "L-Finesse" styling philosophy applied to a four-door package, the Lexus LF-Gh Hybrid Concept makes is making its world debut in New York. Kengo Matsumoto, general manager, Lexus Design Division, Toyota Motor Corporation, says the car was created to "redefine the premium grand touring sedan," genre and "convey original thoughts and ideas that will migrate to future Lexus vehicles on a global scale." Precisely how much of the look transfers over to volume-build status and how it gets revised for the real world remains to be seen; but it seems that at least some measure of that overt edginess will be incorporated into at least the next-gen Lexus GS and GS Hybrid lines.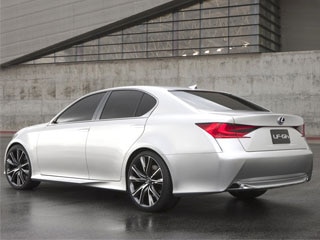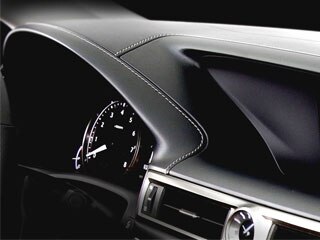 "For this concept, Lexus designers studied characteristics that are often considered contradictory and difficult to execute together," said Matsumoto. "The captivating design of the LF-Gh Concept examines the possibility of balancing what are normally opposing qualities, such as style and functionality." Anchoring this sweeping visual rethink is an aggressively contoured front fascia with a spindle-shaped grille opening flanked by LED headlamps and vertical L-shaped fog lamps that create a unique identity for this car -- and according to Matsumoto -- for future Lexus vehicles, as well. In addition to improving high-speed stability, this signature main air intake design also enhances both engine and brake cooling functions. A wide stance and relatively short overhangs add an extra measure of street presence to the aero-optimized body contours of the Lexus LF-Gh Hybrid Concept, as do detail touches like its distinctive split-form rocker sills, dramatic LED taillights, 20-inch alloy wheels, wind-cheating door handle/side-view mirror treatments and understated chrome exhaust outlets intended to celebrate the hybrid side of its character.
>2012 Chevrolet Sonic with Z-Spec accessories - 2011 NY Auto Show
>Nissan LEAF NISMO RC - 2011 NY Auto Show
>Lexus LF-Gh Hybrid Concept - 2011 NY Auto Show
While stating that LF-Gh design "supports engineering that changes current notions of power, efficiency, safety, and environmental consideration in a premium luxury car," Lexus remains fairly circumspect when it comes to doling out technical details on the car. Save for it driving the rear wheels, there's no word on the engine, motor or battery type fitted to the Lexus LF-Gh Hybrid Concept -- or what we can expect in its volume-build successor. For the moment, that same relative dearth of facts also holds true for the passenger compartment. We do know the cockpit of the LF-Gh Hybrid Concept reflects a similar next-gen approach to packaging, matching driver-oriented control layouts and highly legible displays with a bounty of premium materials and generous room for four plus their baggage. Lexus also is touting a new 3D-look analog clock that allegedly represents a shift in its design philosophy. We'll just have to reserve judgment on that item for the time being.
"Customers have been waiting for a bold concept like this from Lexus," said Mark Templin, Lexus Division group vice president and general manager. "We look forward to their feedback and integrating some of these exciting design features into future Lexus vehicles."