Lexus GS450h Hybrid - Frankfurt Auto Show
by
KBB.com Editors
|
September 19, 2011 10:37 AM
Boasting major enhancements to its overall dynamics, more compelling styling and a big bump in fuel efficiency, the 2013 Lexus GS450h Hybrid made its debut in Frankfurt. As in its previous incarnation, this cleaner, greener sibling of the recently revealed all-new 2013 Lexus GS350 shares much of that car's basic platform architecture and chassis hardware. Save for unique headlamps, hidden exhaust outlets and blue-tinged badges, it also inherits all of the GS350's more assertive exterior and interior styling, including the distinctive front fascia/grille treatment that is destined to become the new signature element of the Lexus line. However, where the new GS350 uses a largely carryover powertrain, the 2013 GS450h packs a massively massaged Gen II version of the Hybrid Synergy Drive (HSD) system that's projected to deliver over 30 percent better fuel economy and to do so without impacting performance.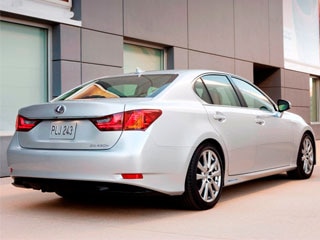 Both the gasoline and the electric side of the GS450h's motivation mix have been seriously revised for this new iteration. The 3.5-liter V6 engine saw its compression ratio boosted from 10.5 to a heady 13.0:1 and now employs Atkinson Cycle timing along with an improved version of the Lexus D-4S induction setup that features both port and direct injection. The engine is teamed with an even-quieter water-cooled electric motor that now features reduced internal friction and uses lighter-weight mounts. Also in the HSD mix is a secondary motor/generator, a power-split device and a revised Power Control Unit that now provides more precise oversight and can serve up drive voltage of 650V in Sport mode or restrict it to 500V in Eco mode to help boost efficiency. While nickel-metal hydride remains the battery chemistry of choice, the pack itself is now considerably smaller, which opens up more trunk space than before. Even the regenerative braking system has been upgraded to broaden its effective operating range.
Collectively, the gas/electric combination develops a total of 338 net horsepower, which gets sent to the rear wheels via an electronically controlled continuously Variable transmission (E-CVT). While that's two ponies under the current car, Lexus says the new GS450h will still be able to sprint from 0-60 mph in 5.6 seconds and hit an electronically limited top speed of 137 mph. As always, the 2013 GS 450h will be able to operate using either or both of its power sources, and allow the driver to select Eco, Sport S, Sport S+ or EV modes.
Like the GS350, this new hybrid variant promises to be even more of a driver's car thanks to a stiffer unit body, revised, an all-new multilink rear suspension, revised geometry and the availability of the Lexus Dynamic Handling system. This integrated four-wheel steering system offers Lexus' first integration of Adaptive Variable Suspension (AVS); Dynamic Rear Steering (DRS); Variable Gear Ratio Steering (VGRS); and the latest generation of Vehicle Dynamics Integrated Management (VDIM). Lexus engineers also tweaked the standard Electronically Controlled Braking (ECB) system for quicker response to pedal input. To complete the package, the 2013 Lexus GS450h is fitted with 225/50 tires on 17-inch alloy wheels or optional 235/45 rubber on 18-inch rims.
Inside, the new GS450h shares most of its lengthy roster of luxury standards with the GS350. However its does get a unique bamboo-finished steering wheel, an energy-saving S-Flow climate control package and the always fun-to-watch hybrid monitor display. Sales of the 2013 Lexus GS 450h Hybrid will start here next spring.