Land Rover DC100/DC 100 Sport - Frankfurt Auto Show
by
KBB.com Editors
|
September 14, 2011 1:09 PM
Giving the world of off-road aficionados a first admittedly far-from-final look at a vehicle that will go on sale in 2015, the Land Rover DC100 Concept and its DC100 Sport runningmate made their formal debut in Frankfurt. According to Gerry McGovern, Director of Design, Land Rover, neither is a production-ready concept but reflect "the beginning of a four-year journey to design a relevant Defender for the 21st century."
>See more new cars unveiled at the 2011 Frankfurt Auto Show
Equally at home on the Serengeti plains and the Australian Outback, as it was on Rodeo Drive in Beverly Hills, the current Defender has aged less gracefully of late compared to rivals like the Toyota Land Cruiser, a fact reflected in dwindling international sales and its flat disappearance from the U.S. market in the late '90s when it failed to keep pace with new safety and emissions regulations. According to McGovern, replacing the roughest and toughest member of the go-anywhere Land Rover lineup stands as "one of the biggest challenges in the automotive design world."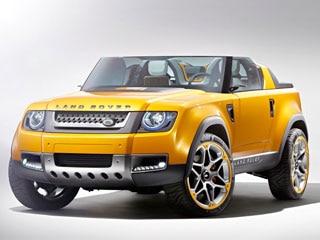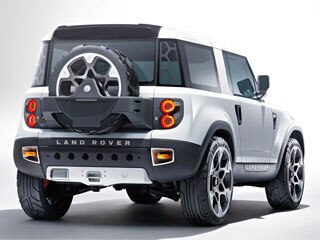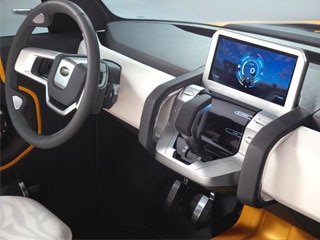 That sentiment is echoed by John Edwards, Global Brand Director, Land Rover. "Loved the world over for its simple, honest and distinctive design, we are determined that the new Defender will be true to its heritage, while meeting the requirements of a changing global market." Edwards says the firm "plans to engage with existing and potential customers to help us finalize the details of the new vehicle."
As for this decidedly dynamic duo, the Land Rover DC100 and open-top DC100 Sport Concepts match far more contemporary styling cues with new forms of focused technology. The former -- intended to demonstrate capability and versatility -- and the latter -- which hones in on freedom and leisure - have a common 100.0 inch wheelbase. Also shared are trick features like Terrain-i scanning that warns of off-road obstacles and Wade Aid sonar that can assess water depth before you're in too deep as well a the latest iteration of Land Rover's advanced Terrain Response System.
According to Kim McCullough, Brand Vice President, Land Rover North America, no decision has been made as to whether this next-generation Defender will return to our shores.