Lamborghini Sesto Elemento -- Paris Auto Show
by
KBB.com Editors
|
October 5, 2010 1:34 PM
After teasing its arrival for more than a week with a series of largely uninformative detail images, the Italian supercar maker finally showed its latest bad-attitude bull in the form of a superlight technology exercise, the Lamborghini Sesto Elemento. The name means "sixth element, reflecting the position of carbon in the periodic table and a new type of "Forged Carbon" material used throughout. That comprehensive utilization, which encompasses its bodywork, tub, interior and even a number of suspension components, yields a vehicle that weighs a mere 2,202 pounds.
>2010 Paris Auto Show Home
>Mini Scooter E Concept - Paris Auto Show
>2011 Chevrolet Orlando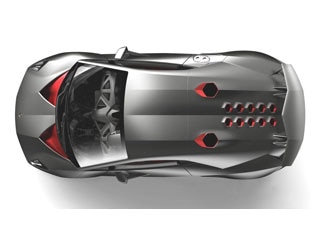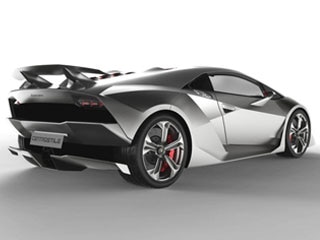 Although Lamborghini has been progressively expanding its use of carbon-fiber reinforced plastic materials (CFRP) since it first introduced them on the 1985 Countach, Stephan Winkelmann, President and CEO of Automobili Lamborghini, indicated this stunning one-off will set a new and even higher benchmark for ensuing generations of vehicles from Sant'Agata Bolognese. "Systematic lightweight engineering is crucial for future super sports cars: for the most dynamic performance, as well as for low emissions. We will apply this technological advantage right across our model range. Every future Lamborghini will be touched by the spirit of the Sesto Elemento."
The Forged Carbon solution
Technological heart of the Sesto Elemento, the Forged Carbon composite was co-developed with Boeing and the University of Washington through Lamborghini's Advanced Composite Structures Laboratory (ACSL) located there. It provides nearly all of the strength and rigidity of conventional carbon fiber but costs significantly less to produce and does not require an autoclave for curing. The Sesto Elemento is the first automotive application of Forged Carbon, but it clearly won't be the last.
Stylistically the Sesto Elemento picks up where Lambo's limited-edition Reventon Coupe and Convertible left off, bringing a healthy dose of stealth flair to its angular contours. Inside, the car is even more Spartan. While it does boast driver-centric features like a tilt/telescoping steering column and power-adjustable pedals, the floor, roof, door panels and console are all bare CFRP. Even the padded seat cushions are affixed directly to their carbon fiber frames and just three peizo-electric buttons grace the console -- one to start the engine, one to select reverse and one to operate the lights.
This mid-engine road-rager borrows the 570-horsepower/5.2-lter V10 from the Gallardo LP 570-4 Superleggera, which is matched with an automated six-speed paddle-shifted transmission and Lambo's sophisticated full-time all-wheel drive system. That motivation coupled with the car's incredibly low mass allows it to run 0-60 mph in 2.5-seconds and reach a top speed well in excess of 186 mph. Lamborghini fans definitely have reason to believe in the future.