Lamborghini Gallardo LP 570-4 Super Trofeo Stradale
by
KBB.com Editors
|
September 16, 2011 12:25 PM
The most intense variant of its kind ever to be built for the street, the Lamborghini Gallardo LP 570-4 Super Trofeo Stradale burst onto the scene in Frankfurt packing equal measures of attitude and ability. Based on the competition-only Lamborghini Blancpain Super Trofeo that runs in the world's fastest single-make series, this primo Gallardo will be built in a limited run of 150 units, all appropriated numbered and finished in unique Rosso Mars paint.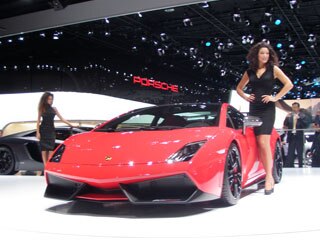 Like the Blancpain, the Gallardo LP 570-4 Super Trofeo Stradale features an extra measure of carbon fiber in its construction which helps reduce curb weight by nearly 155 pounds compared to a standard Gallardo LP-560-4. Its most prominent bit of lightweight bodywork is the Blancpain's race-spec rear wing that provides three times the downforce of the baseline piece. The Super Trofeo Stradale's cabin appointments are equally focused and offer only what's needed to go fast. Black and Rosso Mars Alcantara trim dominate, backed by plenty of carbon fiber, including single-piece thin-line racing seats.
Mechanically the mid-engine Lamborghini Gallardo LP 570-4 Super Trofeo Stradale packs the Blancpain's 570-horsepower V10 that also makes 398 lb-ft of torque. This gets sent to all four wheels via a paddle-shifted six-speed e-gear transmission and sends the car streaking from 0-62 mph in 3.4 seconds and lets it touch 199 mph on the top end. With its competition-proven suspension, brakes - including optional carbon-ceramic stoppers - and ultra-light 19-inch alloy wheels wrapped in ultra-sticky Pirelli P Zero Corsa tires, the Lamborghini Gallardo LP 570-4 Super Trofeo truly is a race car in street clothes.
For those who still crave more performance from the ranks of the Raging Bull, Lamborghini confirmed that its ultimate vision, the stunning Sesto Elemento, will go from concept to very limited-production reality. Shown last year in Paris, this exquisitely angular and super-light, super-potent exercise in carbon-fiber to the max will start emerging from the factory in Sant'Agata Bolognese sometime in early 2013. Weighing just 2,200 pounds, it will be able to hit 60 mph in just 2.5 seconds. However all 20 of the cars scheduled to be built will be strictly track-only vehicles.