Kia Track'ster Concept - 2012 Chicago Auto Show
by
KBB.com Editors
|
February 8, 2012 9:25 AM
Displaying a megadose of super cool, the Kia Track'ster Concept made its stunning world debut in Chicago. While there are no current plans to turn this high-performance one-off into a production model, Kia execs do admit that it "hints what could possibly be the future" for the extremely popular Soul model on which it's based.
More from Chicago 2012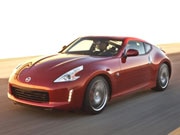 Chicago debuts include an updated Nissan Z and two new Acuras
More new cars
Conceived and refined at the automaker's Southern California design studio, the Track'ster Concept was envisioned as an ultimate attitude adjuster that could seriously impact the way people thought about what a sporty Kia could be. "The idea was to make the Track'ster tough looking, like a bulldog," said Tom Kearns, chief designer for Kia Motors America. "But the car had to be approachable as well." Complying with that part of the program meant retaining sufficient visual cues to ensure it remained immediately recognizable as a Soul derivative. Although the transformation process yielded dramatic results, there's clearly no question about the Track'ster's heritage.
The Track'ster's makeover began with the decision to configure it as a three-door instead of a five-door hatch. While its angled roofline and distinctive greenhouse shapes still say "Soul," their cut-down proportions give the Track'ster a far more aggressive character that's duly reinforced by its slightly longer wheelbase, equally prominent changes to the rest of its body detailing and a riveting Whiteout/Inferno Orange paint scheme.
Up front, the Track'ster emboldens Kia's signature look with more evocative LED-enhanced headlights, oversize driving lamps with aluminum billet surrounds that frame the lower air intake and a carbon-fiber lower valence panel. The profile view of this hope-it-happens dream machine is equally compelling thanks to heavily blistered fenders, carbon-fiber rocker sills and a competition-inspired aluminum billet gas filler. That same material is used for the Track'ster's trick 19-inch wheels -- HRE-K1 monoblock billet performance rims co-designed by Kia's California design team and HRE - wrapped in 245/40 front and 285/35 rear Michelin Pilot Sport PS2 high-performance tires. Highlights of the Track'ster's rear view include large LED taillamps that flank a stylized Inferno Orange "backpack" panel, functional brake cooling ducts and a rear valence panel with integral dual exhausts that mimics the appearance of the front air intake.
To ensure sufficient muscle is on hand to support its blatant bad-boy bodywork, the Track'ster Concept packs a 250-horsepower/2.0-liter turbocharged four-cylinder engine mated to a six-speed manual transmission with a short-throw shifter. Motive force gets sent to each corner via an electronically controlled all-wheel drive system. Complementing its full sport suspension, the Track'ster maximizes stopping power with huge, vented/cross-drilled Brembo disc brakes.
Inside, the Track'ster Concept displays the same kind of competition-oriented character, matching Granite Gray leather trim elements with racing-style sport seats trimmed in Inferno Orange suede. While taking care of business is clearly the prime order of the day in this realm, the Track'ster Concept also features a large touchscreen panel that permits easy operation of its navigation, audio and climate controls systems. Because Kia felt the Track'ster should be equally at home on a racing circuit or the street, Kearns and company decided to replace the Soul-style rear seat with a custom utility space that includes everything from an integrated equipment tray and large stow bins for helmets and driving suits to a dedicated container for emergency supplies finished in Inferno Orange.
As for the Track'ster's future, all Kearns would commit to is that "Concept cars are icing on the cake. They allow KMA's design team to dream about what could be. Whether that dream becomes a reality or not is a separate question." Here's hoping...

Three More Things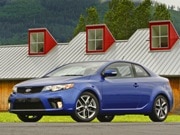 Go cheap, stay cool with our 10 Coolest Cars Under $18,000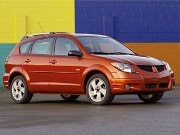 Our 10 Best Used Cars Under $8,000 are 10 of the smartest buys out there