Kia shows new mild-hybrid system and 7-speed dual-clutch trans
by
Bob Nagy
|
March 4, 2014 12:27 PM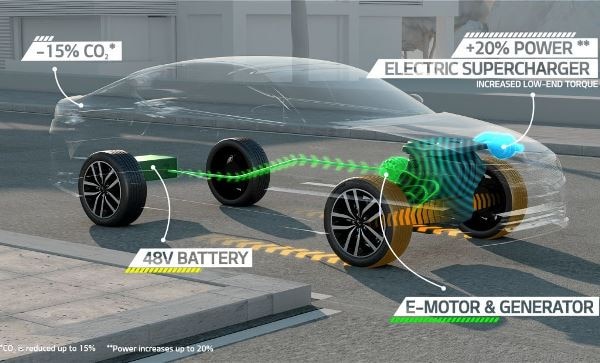 In addition to offering Europe its first close-up look at the new Soul EV and GT4 Stinger Concept, Kia used Geneva to unveil its latest mild-hybrid powertrain as well as a new 7-speed dual-clutch automatic transmission. Both are destined to help the automaker meet increasingly stringent mileage and emissions requirements while helping improve overall performance of its next-generation vehicles.
Also: 2014 Geneva Auto Show - The New Cars
Developed by Kia's European R&D Center, the automaker's new hybrid package is designed for use with gasoline or diesel engines and can raise power output by up to 20 percent while trimming CO2 emissions by up to 15 percent. It features a small electric motor/generator energized by a new 48V lead-carbon battery and also incorporates an electric-powered supercharger to help boost low-end torque and output. Kia cited three reasons for choosing lead/carbon chemistry instead of the more common lithium-ion. It eliminates the need for active cooling, has better cold-weather capability and is more easily recycled. The system also incorporates a start-stop system and replaces the conventional alternator with a belt-driven starter generator.
While not offering complete details at this point, Kia did say its new mild-hybrid system will allow a vehicle to operate in full electric mode at low speeds or when cruising and that battery gets recharged under all types of deceleration. In addition to the supplemental drive motor, the main battery pack also powers the electric supercharger. Kia anticipates that in some applications, this scaled-down force feeder could be paired with a larger conventional supercharger that kicks in as the revs rise -- or simply be eliminated if not required.
Also: 12 Best Family Cars of 2014
As for its new 7-speed dual-clutch (DCT) transmission, this automated manual cog-changer was previewed at last year's Geneva show in the Kia Provo Concept and will first start appearing in various 2015 Kia production cars. A more fuel-efficient replacement for the automaker's current 6-speed autoshifter, the new DCT features dual input shafts and a pair of dry clutches that allow for rapid shifts with uninterrupted power delivery. It's projected to deliver roughly a seven percent gain in fuel efficiency and five percent better acceleration times.
No word yet as to what U.S. Kia models will be the first to benefit from either this new hybrid powertrain or the 7-speed DCT transmission.
More Technology News...
Cadillac's Super Cruise technology has begun real-world testing
Mercedes-Benz has introduced a new anti-wrong-way-driver warning system
2014 Volvos offer a new cyclist-detection safety system
Popular at KBB.com