Kia Naimo Concept melds classic Korean art with advanced EV tech
by
KBB.com Editors
|
April 1, 2011 1:09 PM
Offering one more intriguing look at the ever-greening future of autodom, the Kia Naimo Concept made its debut at the Seoul Motor Show. Pronounced "Neh-mo" -- which translates into "square shape" -- this B-size four-door crosssover EV offers "a perfect balance of innovation, high-tech and Korean tradition," according to Kia Motors' Chief Design Officer, Peter Schreyer. "It was heavily inspired by the purity and grace of traditional Korean arts and crafts, but combines this with cutting edge technologies to deliver a truly premium experience." While its distinctive sense of style may lack a certain measure of universal appeal, the Kia Naimo does boast a number of interesting innovations that likely will turn up on future Kia production models, regardless of powertrain configuration.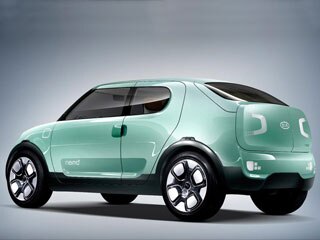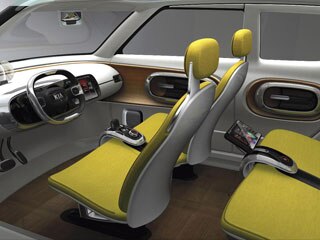 Finished in a jade-like green, the Kia says the Naimo's exterior was influenced by the look of Asian Celadon-style pottery, including its bold but simple shapes and asymmetric sunroof design. The Naimo's wraparound windshield/greenhouse treatment is set off by dot-style LED headlamps and running lights while a high-pressure air jet at the base of the windscreen replaces traditional wipers and conventional side-view mirrors give way to mini-cams installed in the Naimo's A-pillars. Low-rolling-resistance tires on bespoke low-drag 20-inch alloy wheels complete the look.
Inside, the Naimo's four-place cabin displays a similar blend of old and new. Handcrafted materials dominate, from its Han-ji paper headliner to Korean Oak trim on the door panels and floor. These are counterbalanced by modern touches, like the use of a new TOLED (transparent organic light emitting diode) display instrument panel and comprehensive on-board connectivity. Entry to both the front and rear quarters is made easier by rear-hinged rear side doors and the absence of a B-pillar while a three-way split hatch/door arrangement facilitates loading/unloading the cargo bay.
Motivation for the Kia Naimo Concept is provided by an electric motor that develops 108 horsepower and 206 lb-ft of torque, enough to give this super-clean crossover a top speed of 93 mph. It's energized by a twin-element 27kWh lithium-ion-polymer (LiPoly) battery pack located under the trunk floor and capable of delivering 124 miles on a single charge. While the replenishment interval using a 240V line and the Naimo's 3.3kW on-board charger is 5.5 hours, a special 50kW quick-charger unit can perform an 80-percent refill in 25 minutes.
After making the rounds of various auto shows, the Kia Naimo Concept is due for a real-world duty cycle where it will join the automaker's existing fleet of EV, FCEV and advanced hybrids to serve as a test bed for potential future production models.