Kia KV7 Concept - 2011 Detroit Auto Show (w/video)
by
KBB.com Editors
|
January 10, 2011 10:32 AM
Detroit Auto Show Top 10 #7 , Next: #6>>
Offering a look at what it envisions as the ultimate modern-day "activity van," Kia took the wraps off of the KV7 Concept in Detroit. Penned at its Southern California design studio, the Kia KV7 retains a full measure of practical versatility but replaces conventional family orientation with a more high-tech persona that effectively transforms it into a de facto mobile social hub for urban and not-so-urban active lifestylers.
>See more new cars unveiled at the 2011 Detroit Auto Show
In presenting the KV7, Tom Kearns, chief designer, Kia Motors America observed: "Rather than reject the box we chose to celebrate it, just like we did with the Soul. The result is a straightforward yet sophisticated vehicle that retains the functionality vans are known for and meets the changing and diverse needs of today's consumers." Given the company's history of turning vehicles like the Soul and Forte Koup Concepts into largely-unchanged production models, there's a good chance at least some of the KV7's design elements will turn up on a volume-build Kia people mover within the next few years.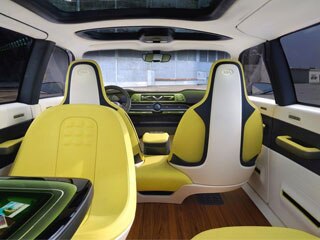 The KV7's intriguing mix of smooth, flowing contours and angular forms endows it with a well-proportioned blend of minivan and SUV cues set off by a steeply-raked windshield, prominent wheel arches filled with 20-inch alloy wheels mounting 225/45 tires and an expansive greenhouse that adds visual interest as well as enhances driver sight lines. The front quarters offer a unique take on Kia's signature face, infusing a thin-line execution of the ubiquitous Peter Schreyer-penned grille opening with a continuous line of LED fog lamps that span its entire width set off by vertical LED headlamps. LEDs also are used in the KV7's tail lamps and to illuminate its mirror-mounted directional signals. But the KV7's biggest departure from convention is found in the configuration of its passenger-side doors. The forward unit extends conventionally but has no B-pillar while the rear portal open upward instead of sliding back to effectively create a huge entry point to its cutting-edge cabin.
Inside, the Kia KV7 Concept offers an equally trendsetting take on design and mobile connectivity with a focus on people it defines as socially and physically active "Ringleaders." The cabin is rendered in soothing soft beige and green tones and uses LED lighting throughout as well as a variety of unique materials including reclaimed teak wood flooring and sustainable wool and felt. Primary seating consists of four swivel-mount buckets while a rear-corner mini-lounge offers additional space for three and integrated storage compartments. Push its starter button, and the KV7's articulated dash moves six inches closer to the driver to put all main controls and its large central multi-function display screen within easy reach. The latter item operates the KV7's infotainment/navi/climate control functions via a dash-mounted trackball mouse. Rear-seat occupants have access to their own floating-tabletop touch-screen computer display, and an integrated Wi-Fi system allows all on board full online use of their smart phones or other enabled devices.
The KV7 shows the same kind of forward thinking underhood. It's fitted with Kia's latest Theta II engine, a turbocharged, gasoline direct injected (GDI) 2.0-liter four-cylinder that can make up to 285 horsepower. Matched with a six-speed automatic transmission, Kia says it endows the KV7 with V6 performance while still letting it return over 30 mpg on the highway.

Exactly how many of the Kia KV7 Concept's more ambitious design elements ever manage to ever see production of any kind remains an open question. But it certainly raises some interesting possibilities for what might turn up in an adult-oriented variant of the next-gen Sedona.
>All Auto Shows , >Past Detroit Auto Shows , >Detroit Auto Show 2011