Kia GT Concept - Frankfurt Auto Show
by
KBB.com Editors
|
September 14, 2011 12:54 PM
Providing a first look at the kind of design language that will help shape vehicles in its lineup of tomorrow, the Kia GT Concept came dressed to impress at its debut in Frankfurt. Beyond making a visual statement that goes well beyond anything we've seen yet from the Korean automaker, it's also the first Kia to feature a front-engine/rear-drive configuration.
>See more new cars unveiled at the 2011 Frankfurt Auto Show
Created in Kia's European design facilities under the supervision of Peter Schreyer, the firm's chief design officer, the GT Concept was inspired by classic Grand Touring machines of the 1970s as well a by more recent Kia one-offs, including the Pop and Kee Concepts. The influence of the latter is most readily apparent in the GT's Concept's aggressive front end treatment that matches the latest take on the signature Schreyer grille shape with an equally bold LED lighting treatment. To ensure it had the proper stance, a long hood, short deck and flowing roofline are matched with short front/rear overhangs, and strong shoulder lines set off by various subtle color and trim details including its aeronautically flavored alloy and carbon-fiber wheels, a deep front air intake and functional rear diffuser.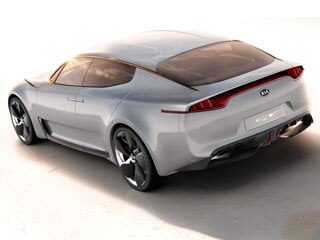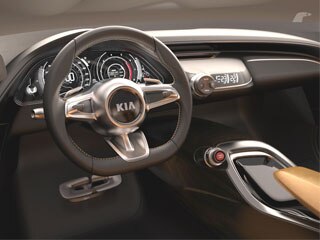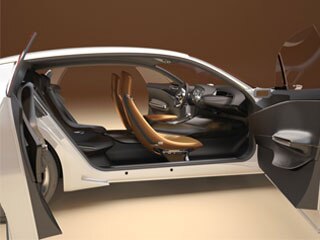 Less obvious at first glance, the Kia GT Concept eases access/egress to its four-seat cabin by pairing conventional front doors with rear-hinged rear units that swing out and slightly upwards. Inside, this intriguing exercise in possibility thinking displays a clean and airy character. A Pop-style glass instrument panel with three layers of organic LEDs offers multifunction capability with a 3D look while switchgear on the three-spoke sport wheel further simplifies command/control duties for the driver. Other interesting touches include a prominent but uncluttered center console, large red starter button, twist-and-go transmission selector, rear-view cameras with door-mounted LED displays in place of conventional mirrors and four single-piece, leather-covered seats done in warm-metallic copper up front and black in the rear.
"No matter from which perspective you look at the Kia GT, it is roaring with energy and ready for take-off," says Peter Schreyer. "I believe this concept car is a strong statement from Kia that we are ready to fast-forward to an all-new chapter."
While its striking appearance and associated design brief will ensure this vehicle a spot on the wish list of many Kia partisans, the automaker has indicated that it's not a direct candidate for inclusion in the lineup but rather a well-rendered glimpse at the dynamic character we can expect to see in upcoming models.
However that admonition doesn't stop Scheryer from sharing his personal opinion about its potential. "One of the great things about working on this project was that this is a very real car. It felt good to be working on a car that could roll down the road tomorrow. Yes, it would be a dream to put this into production - it has a logical layout, with four seats, and good luggage space, and it's also engaging and dynamic and makes a strong statement. It's exactly the kind of car Kia should be making."
So what's lies ahead? next? The next stories in this compelling saga are rumored to be in development right now -- and likely to appear next year at the Detroit and Geneva shows.