Kelley Blue Book, Rick Hendrick Motorsports agree to a two year sponsorship deal for Dale Earnhardt Jr.
by
Trevor Dorchies
|
February 14, 2014 11:54 AM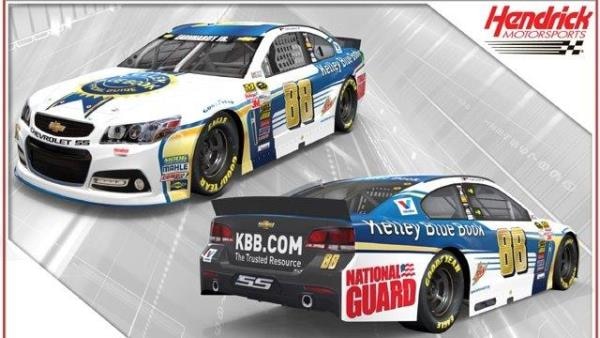 With the 2014 Daytona 500 just over a week away, Hendrick Motorsports announced that Kelley Blue Book has signed on as a primary sponsor with the No. 88 Chevrolet SS driven by none other than NASCAR's most popular driver for 11 years running - Dale Earnhardt Jr. The two-year pact will commence immediately and run through the 2015 season.
Jr.'s latest deal includes full-season sponsorship, which will prominently showcase Kelley Blue Book on the car throughout the season, as well as a primary sponsorship role for one race annually. Kelley Blue Book will be Earnhardt's primary sponsor when NASCAR heads to Sonoma Raceway in Sonoma, California, for the Toyota Save Mart 350 on June 22. The 2014 season marks the first time Kelley Blue Book will sponsor a NASCAR Sprint Cup team.
"I'm looking forward to our partnership with Kelley Blue Book," said Earnhardt. "As a car enthusiast and dealership owner, I've trusted them for years for vehicle valuation and information. It's exciting to work with a partner that's new to the sport, and I'm proud Kelley Blue Book will be on board with the No. 88 team for their debut season in the NASCAR Sprint Cup Series."
Earnhardt has entered 505 NASCAR Sprint Cup Series races over the course of 15 years and has found the victory lane 19 times (his last win coming at the 2012 Quicken Loans 400 in Michigan), while finishing in the top 10 204 times and collecting 13 poles along the way. Earnhardt has also earned three consecutive Chase for the Sprint Cup berths and finished the 2013 season in fifth place with a career-high 22 top-10 finishes.
"On the dealership side, we've worked with Kelley Blue Book for many years," said Rick Hendrick, owner of Hendrick Motorsports and chairman of Hendrick Automotive Group. "NASCAR is a terrific marketing platform for their products and services, and it presents new opportunities for our companies to work together. We're excited to welcome a new partner and team them with an incredible spokesperson in Dale Jr. It's a great combination with the potential to grow even more."
The 2014 NASCAR Sprint Cup Series kicks off Sunday, February 23, with the 2014 Daytona 500.
Popular at KBB.com