KBB Weekend: NY Auto Show preview, new RAV4, new Impala, top deals
by
KBB.com Editors
|
March 22, 2013 8:40 PM
In addition to our first review of the all-new Chevy Impala pictured above, the past week also brought us a clearer look at what we'll be seeing at the New York Auto Show next week. We also compared the all-new Mitsubishi Outlander with the mostly new Kia Sorento, took the new Toyota RAV4 to the Grand Canyon and got a peek inside the 2014 Mercedes-Benz S-Class.
2013 New York Auto Show Preview
Take an early look at just some of what will be revealed next week
2014 Chevrolet Impala gets remade
We see if Chevy's all-new full-size sedan really lives up to the promise of its good looks
KBB Video: 2013 Toyota RAV4
A more civilized, user-friendly iteration of one of America's most popular compact SUVs
First look inside the 2014 Mercedes-Benz S-Class
Sophisticated elegance takes on new meaning in the next-gen flagship of M-B's luxo sedan fleet
Revealed: 2014 SRT Viper TA
This new "Time Attack" limited edition is a track-day dream machine
NHTSA launches SaferCar app for iPhone
A full-service friend for consumers with a need to know
Family feuders: 2014 Kia Sorento vs. 2014 Mitsubishi Outlander
Two manageably sized 3-row SUVs -- which one has the edge?
Future flash: Hyundai HND-9 Concept teased
This one-off luxury sport coupe is the forerunner of a premium production model
2014 Ford Fiesta gets even more economical
With a new 3-cylnder EcoBoost option, this stylish subcompact delivers near-hybrid mpg numbers
Top 10 Car Deals for March
Budget-friendly choices for $0 down and less than $300/month
Extra Mile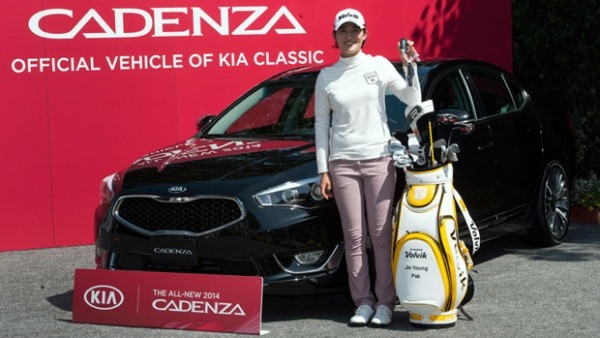 On Friday, LPGA golfer Jin Young Pak hit a hole-in-one at the Kia Classic in Carlsbad, California, to win a 2014 Kia Cadenza. That's not a bad way to head into a weekend.
You Might Also Like...