Jeep Wrangler Porkchop and Wrangler Renegade -- Safari sneak peek
by
KBB.com Editors
|
April 5, 2011 9:19 AM
With spring swinging into full bloom, the annual Moab Easter Jeep Safari is also looming large, and with it, a new year's worth of cool concepts cooked up by Jeep and Chrysler's Mopar aftermarket performance division. That dynamic duo is promising no fewer than six of these trick pieces for the 45th Anniversary event that will take place in Utah on April 16-24. It recently offered an early look at two of them, both based on the Wrangler.
While no details accompanied either image, it's fairly clear that the doorless Jeep Wrangler Porkchop is meant to be the more focused boonie-bounder of this illustrious pair with the well-tailored Jeep Wrangler Renegade intent on proving that there's still plenty of charm to be found in basic black.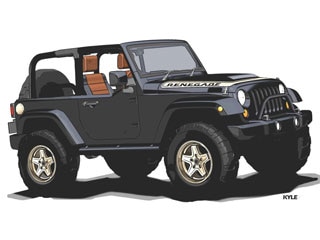 Jeep promises more facts and photos on these and the remaining four vehicles in the days ahead. With a little luck, at least some of what gets introduced during this year's Moab Easter Jeep Safari will end up in the showroom, as well. Last season's star, the Ram Runner concept pickup inspired by Baja-style desert racers, spawned a full range of Mopar-spec parts and packages for on/off-road use. We'll have to wait and see whether anything in the Safari's class of 2011 was created with a similar mission in mind.