Jaguar C-X75 Concept headed for production in 2013
by
KBB.com Editors
|
May 9, 2011 8:23 AM
In a decision destined to make the automotive dreams of 250 well-heeled supercar fans come true, Jaguar today confirmed plans to build a limited number of street-legal (and possibly race-spec) versions of its stunning Jaguar C-X75 Concept, with delivery of the first vehicles due to start in 2013. Although the consensus star of the 2010 Paris Auto Show will undergo several changes to its hybrid powertrain in making the transition from one-off show car to real-world road warrior, the automaker promises that it "will stay true to the initial concept design study...while fulfilling requirements that allow it to be homologated for road use."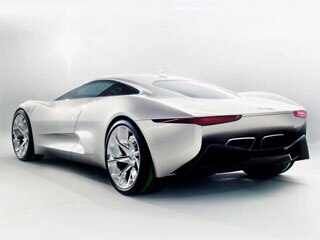 In making this historic announcement, Adrian Hallmark, Jaguar Brand Director noted: "People expect Jaguar to be innovators -- that is when Jaguar is at its best. The C-X75 received an incredible reception as a concept car. We've been building on that momentum and there is a clear business case for this exclusive halo model. No other vehicle will better signify Jaguar's renewed confidence and excellence in technological innovation." To help ensure success in this ambitious venture, Jaguar Land Rover is partnering with the Williams F1 organization to tap into its engineering expertise in several key areas, including aerodynamics, carbon composite manufacture and hybrid technologies.
Save for confirming that it will retain the concept's full carbon-fiber construction, Jaguar did not provide a great deal of technical detail on the upcoming production version of the Jaguar C-X75. However, it did say that bringing the car to market in a realistic time frame will necessitate fitting a new iteration of its all-wheel drive powertrain that replaces the small "range-extender" Bladon Jet micro-turbine engines with a single, small-displacement "highly boosted" gasoline engine that will work in conjunction with an electric motor on each axle and a lithium-ion battery pack -- at least at the start of production.
Reports from Europe indicate that the engine in question is likely to be a Williams-designed 1.6-liter turbocharged and supercharged inline four-cylinder similar those that will be used in Formula One starting in 2013. Although there's no official word on the output of the motors (which generated 195 horses each in the C-X75 Concept), the new gas engine is thought to be capable of 400-500 horsepower. Whatever the final combined output specs, Jaguar indicates that the production C-X75 will be able to hit 60 mph in less than 3.0 seconds, top 200 mph, and travel up to 30 miles in pure EV mode -- all while producing less than 99g/km of CO2.
Interestingly enough, the automaker went on to state that it continues development work on the trick micro-turbine technology that was introduced in the concept C-X75. Jag's parent company Tata has acquired "a significant stake in Bladon Jets, and will develop this very advanced technology as a medium-term aspiration that will play a part in Jaguars of the future." Whether that means that some of the later-build C-X75 production units will be fitted with these alternative motivators remains to be seen.
Although there's speculation that its name also is likely to change before deliveries begin in 2013, pricing on the Jaguar C-X75 has been pegged between £700,000 -- £900,000 ($1.1-$1.5 million), depending on market and local taxes.