Jaguar C-X75 Concept -- Paris Auto Show
by
KBB.com Editors
|
October 5, 2010 1:19 PM
A strong candidate for best-in-show honors, the breathtaking Jaguar C-X75 Concept is a tech-rich one-off meant to celebrate "75 years of iconic Jaguar design" as well as to provide a look at what lies ahead for the marque from both a visual and technological perspective. To suitably complement its striking appearance, the Jaguar C-X75 boasts supercar performance courtesy of its super-clean range-extended electric powertrain.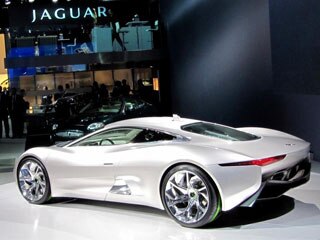 Finished in Jetstream Silver and making extensive use of aluminum throughout to help keep weight to 2,976 pounds, the Jaguar C-X75 gets its formidable motivation from the slickest range-extender combo pack yet. Each wheel is linked to a 195-horsepower electric motor that's energized by a lithium-ion (Li-ion) battery pack mounted low in the nose of the car. In addition to producing a collective 780 horses, the motors churn out a total of 1,180 lb-ft of torque. Jaguar says the C-X75's battery pack has sufficient juice to let it travel 68 miles in pure EV mode and it can be recharged via a six-hour plug-in session or replenished through the use of regenerative braking. However, the main force behind extending the car's total range to 560 miles is a pair of compact turbine engines developed by Jag's design partner and one of the world's leading micro-turbine technology leaders, Bladon Jets.
Each of these 94-horsepower gas turbines weighs just 110 pounds and spins at up to 80,000 rpm. Working in concert with a pair of switched reluctance generators supplied by another tech teammate, SR Drives, they can be called upon in any combination to either recharge the battery pack or ship electricity directly to the motors, as demand dictates. Working in max mode, the setup gives this fast cat the ability to race to 62 mph in 3.4 seconds and keep on running up to 205 mph -- and still emit just 28 g/km of CO2. As an additional benefit, the turbine exhaust gases are channeled into the C-X75's rear venturi tunnel that incorporates an active airfoil to help generate additional downforce at high speeds. In addition to that tweak, the Jaguar C-X75 Concept incorporates several other movable aero elements to trim drag and enhance dynamic stick. Topping that list are closable grille and front brake ducts plus vertical control surfaces at the rear of the car that redirect airflow to help increase high-speed stability.
The two-seat cabin of the Jaguar C-X75 Concept embraces a similar kind of purposeful technology. Cream semi-aniline leather trims the dash and Storm Grey full-aniline hides cover the lightweight seats that are fixed to the rear bulkhead. The look is complemented by loads of polished aluminum and ambient lighting that transitions from electroluminescent wires to phosphor-blue LEDs as you enter and slide into position. The entire dash and pedal set in the Jaguar C-X75 Concept power adjust to accommodate any driver using buttons on the steering wheel. A digital instrument readout and shifter knob reminiscent of a jet fighter add even more drama to the presentation while a high-end Bowers & Wilkins audio package rounds out the mix in its typically high-end fashion.
In presenting the Jaguar C-X75, Dr. Ralph Speth, chief executive officer Jaguar Land Rover noted that "Performance through innovation has always been a Jaguar hallmark. From the beginning, cars like the C-Type and D-type pioneered aluminum construction, aerodynamic design, racing monocoques and disc brakes. The C-X75 demonstrates that the company is still leading the field in automotive design and technology.
Ian Callum, design director, Jaguar Cars sees the C-X75 Concept as "everything a Jaguar should be. It possesses remarkable poise and grace yet at the same time has the excitement and potency of a true supercar. You could argue this is as close to a pure art form as a concept car can get and we believe it is a worthy homage to 75 years of iconic Jaguar design."
While indicating that it has no plans to actually produce the C-X75, even in limited numbers, it will be interesting to see exactly how and when Jaguar does move ahead and introduce some its most intriguing technological elements on cars that do enter its lineup in the years ahead.