Jaguar C-X16 Concept - Frankfurt Auto Show
by
KBB.com Editors
|
September 8, 2011 8:58 AM
Living up to the promise revealed in its original design brief, the Jaguar C-X16 Concept melds neo-classic styling cues with contemporary technology to create a high-performance package that gives a clear signal of what lies ahead for the marque. In presenting this striking GT-to-be, the automaker's Global Brand Director, Adrian Hallmark, noted: "The C-X16 is our compelling vision for a 21st century Jaguar sports car. It embodies the established Jaguar strengths of sensual design, animal-like agility and inspirational performance and combines these with attributes that set us on a course to create sustainable sports cars of the future." What Hallmark left unsaid is that a production model based on the C-X16 Concept likely will join the Jag lineup by the end of 2012, as a would-be rival for the new Porsche 911 that's also making its debut in Frankfurt.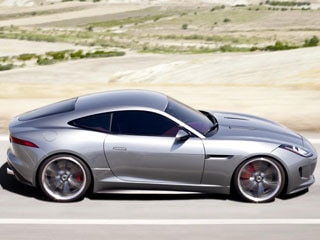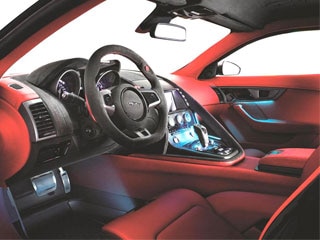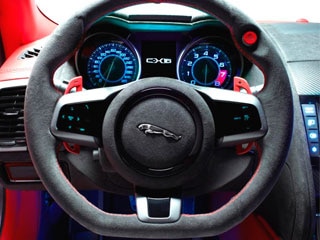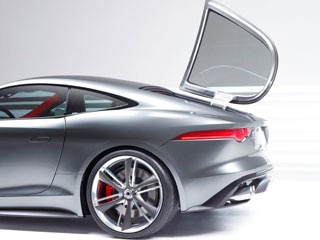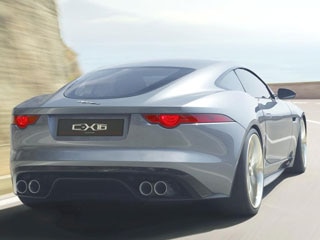 Although its long nose, short overhangs and sweeping roofline are familiar elements in the Jaguar design portfolio, the C-X16 Concept puts a more modern spin on things to help set it apart from its iconic E-Type forebear as well as the current XF. The C-X16's tightly-wrapped body panels are rendered in lightweight aluminum. Up front, its boldly chiseled fascia sports a large trapezoidal grille opening similar to the current XF/XJ models flanked by large air intakes and dramatic head/running lamp treatments. The C-X16 Concept's prominently flared fenderwells are filled with 21-inch alloy wheels and performance tires that bookend its deeply-sculpted side sills. Out back, powerful character lines complemented by dual-paired exhaust outlets and taillamps that recall those of the C-X75 Concept revealed last summer in Paris raise its profile while a show-car-only, side-hinged back-glass element adds even more interest.
Like all other Jaguar models, the C-X16 Concept is based on the firm's Advanced Aluminum Architecture that maximizes stiffness and rigidity while reducing mass. A variation on the structure that underpins the current XJ model, it's been suitably reinforced and reportedly allows the production derivative to accommodate a variety of different powertrain options.
In an impressive proof-of-concept demonstration, motivation for the rear-wheel-drive C-X16 one-off comes from a potent hybrid setup that matches a new supercharged variation of the firm's 3.0-liter V6 engine with an electric motor and lithium-ion (Li-ion) battery pack that gets recharged using a highly-efficient Formula One-style electro-hydraulic KERS (Kinetic Energy Recovery System) setup mounted on the rear axle. The C-X16's force-fed V6 -- a new, direct-injected modular derivative spun from the firm's AJ-V8 architecture -- makes a heady 375 horsepower and 332 pound-feet of torque on its own while the liquid-cooled electric motor develops 94 ponies and 173 pound-feet of additional twist. Activated by a "Push to Pass" boost button on the steering wheel, it uses energy stored in the car's also-liquid-cooled 1.6kWh battery pack located behind the seats to keep this added might in the mix for about 10 seconds. All usage/recharging activity is overseen by a dedicated Hybrid Vehicle Supervisory Controller.
Jaguar says that potent combination allows the C-X16 Concept to streak from zero-to-62 mph in just 4.4 seconds and reach an electronically limited top speed of 186 mph. Shifting duties -- by paddles or conventional lever -- are carried out by a revised version of the ZF-soured eight-speed auto that integrates the motor/generator unit and helps contribute to the car's 50/50 weight balance. On the greener side, the Jaguar C-X16 can travel up to 50 mph for shorter periods on electric power alone. For its part, the V6 is fitted with Jaguar's new Twin-Solenoid start/stop system and the latest iteration Rootes-type supercharger to make it both more fuel efficient and fully compliant with next-gen EU6 emissions regulations.
While offering seats for two, Jaguar refers to the C-X16's cabin as a "1+1" configuration due to the extreme cockpit-like ambiance that leaves no doubt that this is "a driver's car" first and foremost. Done in Vermillion Red leather with black Suedecloth, anodized machined aluminum and carbon-fiber trim accents, it incorporates details that recall both a fighter jet and a modern competition car, including manually-adjustable racing seats that feature special composite reinforcing elements and a joystick-style shift lever. Even the car's starting sequence has an aircraft-style character, where the push of a button brings everything to life, including the C-X16's highly-legible TFT-type main instrument display.
To keep the person behind its flat-bottom, multifunction wheel well informed at all times, the C-X16 Concept features a dual-function, menu-driven central display with an advanced touch interface as well as Jag's latest "Connect and View" system that effectively links to smartphones and other personal electronic devices. The C-X16 Concept also boasts a trick Intelligent Venting System with articulated double outlets inspired by the variable intakes of a Typhoon fighter. These extend forward to deliver a mass blast of hot or cool air that quickly alters the interior temp and then automatically retract back into the dash once the job is done.
We'll have to wait to see exactly how much of the Jaguar C-X16 Concept actually does manage to make it to the showroom. However, there's no denying this package is loaded with promise.