Infiniti IPL G Convertible Concept -- Paris Auto Show
by
KBB.com Editors
|
September 29, 2010 12:07 PM
Making its premiere as a one-off but likely destined to join its limited-production Infiniti IPL G Coupe sibling in the showrooms at some point in the not-too-distant future, the Infiniti IPL G Convertible Concept shares the same high-profile styling themes and aggressive attitude but crowns its interpretation of Infiniti Performance Line cool with a three-piece power-retractable hardtop.
>2010 Paris Auto Show Home
>Mini Scooter E Concept - Paris Auto Show
>2011 Honda Jazz Hybrid - Paris Auto Show

Like the 2011 Infiniti IPL G Coupe that was revealed that the Pebble Beach Concours d'Elegance in August, the drop-top gets its own IPL-specific body enhancements and 19-inch alloy wheels with Bridgestone Potenza RE050A performance tires. Beyond its foldaway top and unique red-leather interior trimout, the Infiniti IPL G Convertible Concept also packs an IPL-tuned 3.7-liter V6 (rated at 348 horsepower in the IPL Coupe) as well as a suitably stouter IPL-designed signature suspension setup, quicker steering, upgraded disc brakes and a free-flowing exhaust system.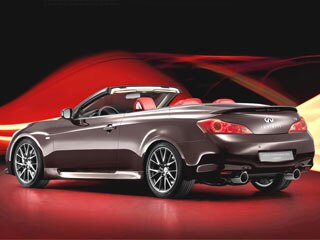 "The Infiniti Performance Line is designed to push the premium performance envelope for buyers seeking a higher level of exclusivity and driving exhilaration," said Infiniti Vice President Ben Poore. "IPL promises unique driving attributes from other Infiniti models, without adding stratospheric prices." While the official status of a production version of the Infiniti IPL G Convertible remains undisclosed, the 2011 Infiniti IPG Coupe goes on sale here in December.