Infiniti FX Sebastian Vettel Version - Frankfurt Auto Show
by
KBB.com Editors
|
September 15, 2011 8:27 AM
Inspired by the reigning Formula One World Driving Champion, the Infiniti FX Sebastian Vettel Version made its public debut on the automaker's stand in Frankfurt. Based on the automaker's FX50S Premium model, the Red Bull Racing star pilot claims this one-off uber Infiniti crossover is the first road car he's ever had a hand in developing. With modifications that give it even more power, better aerodynamics, crisper handling and a top speed upped to 300 kph (186 mph), it's hardly surprising to hear Vettel - a global ambassador for Infiniti who regularly drives an FX50 when not strapped into his Red Bull Renault RB7 -- say this particular iteration is a perfect match for his high-velocity lifestyle.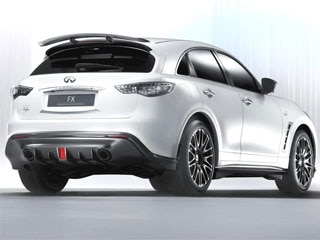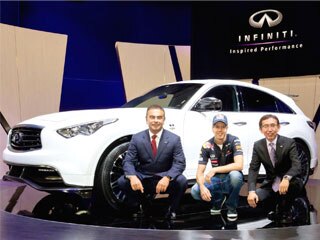 Finished in Moonlight White Pearl, the Vettel Version FX gets a jolt of visual attitude starting with a revised front fascia that features a grille that echoes the Infiniti Essence Concept, new LED running lights and custom carbon-fiber front splitter inspired by the front wind on an F1 car. That lightweight composite also is used for the grille insert, side sills, reshaped mirror covers, F1-type rear diffuser and a large rear wing, all of which help reduce weight and tidy up its aero profile. Coupled with a lower ride height - dropped by 20mm - the Infiniti FX Sebastian Vettel Version boasts a five-percent better drag coefficient and significantly more downforce than its standard counterpart while shedding 101 pounds in the process. Even the Vettel Version's custom 21-inch black-finish alloy wheels save weight over the same-size stock rims.
To help bring the 5.0-liter V8 up to Vettel velocity, Infiniti reprogrammed the engine control unit and fitted a freer-flowing exhaust, which raised output from 390 to 420 horsepower. Finally, the speed limiter was removed. Even though the transmission ratios were modified to favor autobahn cruising rather than flat-out acceleration, 60 mph still comes up in 5.6 seconds, 0.2 tick quicker than a standard FX50S. Beyond lowering its profile, chassis modifications were pretty much confined to stiffer spring and revalved shocks.
Inside, the Infiniti FX Sebastian Vettel Version offers considerably more welcoming accommodations than the driver's normal work ride. Carbon fiber and black-chrome detail trim complement sport seats done in black quilted suede with purple contrast stitching and "SV" logos while Alcantara wraps the steering wheel rim and shifter paddles. As might be expected, a special signature plate on the center console removes all doubt as to who owns this particular Infiniti FX.