Infiniti Etherea Concept - Geneva Auto Show
by
KBB.com Editors
|
February 14, 2011 1:56 PM
Although the automaker is still holding back virtually all tech details, we now know the name -- Infiniti Etherea Concept -- and the appearance of the car it originally teased two weeks ago and will present in Geneva next month. Intended to evolve the brand away from established convention, Toru Saito, Corporate Vice President and Leader of the Global Infiniti Business Unit characterizes the ETHEREA as "a new type of luxury for younger buyers. It is not just a smaller version of a typically conservative and traditional luxury car."
>See more new cars unveiled at the 2011 Geneva Auto Show
Depending on where you look, the ETHEREA's eclectic exterior design encompasses cues that could be associated with a coupe, sedan, hatchback and crossover bookended with bold headlamp/taillamp treatments. It also incorporates a distinctive crescent-shaped C-pillar previewed on the earlier Essence Concept and destined to become a signature element of future Infiniti production models. Nearly 15 inches shorter than a an Infiniti G-Series -- and barely four inches longer than a Nissan Versa -- the ETHEREA reportedly has an extremely space-efficient cabin configuration that provides exceptional room for passengers and their gear.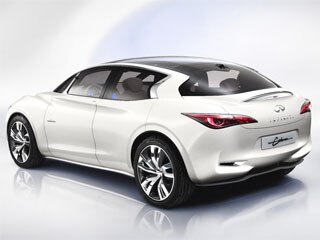 While offering no specifics, the Infiniti release went on to note that the ETHEREA incorporates several "high-tech new interpretations of traditional Japanese materials and finishes," which should further expand the would-be consumer appeal of this innovative package that "previews how a future entry-level Infiniti could look."