Hyundai i30 - Frankfurt Auto Show
by
KBB.com Editors
|
September 20, 2011 8:30 AM
Officially unveiled in Frankfurt, the new Hyundai i30 is a hatchback variant of the Korean automaker's popular C-segment model. Like other vehicles in its lineup, this next-gen entry has been updated with the firm's "fluidic sculpture" design language in a move intended to further raise its international profile.
Marketed in America as the Elantra, the i30 is the firm's best-selling model in Europe. Designed and engineered at the Hyundai Motor Europe Technical Centre in Rüsselsheim, Germany, this latest incarnation embodies a measured evolution of the automaker's distinctive visual form highlighted by a unique interpretation of the now-signature hexagonal grille, jewel-like lighting elements and edgier detailing that give the new i30 a more substantial and confident character. European buyers will have a choice of four engines including a revised and even more efficient clean diesel.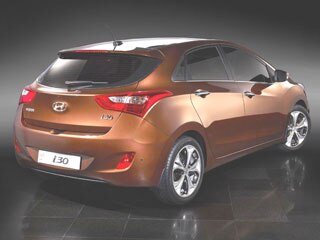 Allan Rushforth, senior vice president and COO of Hyundai Motor Europe, is understandably optimistic about the car's prospects, noting, "We expect this next-generation i30 to play a significant role in developing our brand image in Europe and strengthen the vehicle's position here. Since 2007, the name 'i30' has become synonymous with 'quality', 'reliability' and 'low emissions' in Europe, and we hope that, amongst others, the term 'emotional appeal and style' will be added to the list with the introduction of this dynamic new model.
No formal word yet from Hyundai's U.S. arm, but one insider has told KBB.com that we can expect to see some form of the new i30 appear on streets here sometime early next spring, almost certainly as a 2013 model. Whether its will come as the next Elantra Touring or herald the end of Elantra nomenclature in America remains to be seen.