Honda EV-STER Concept - 2011 Tokyo Auto Show
by
KBB.com Editors
|
November 30, 2011 1:48 PM
A visually tantalizing take on a "next-generation electric sports car," the Honda EV-STER is a lightweight, rear-drive two-seater with innovative style and design to complement its super-clean powertrain. Extensive use of carbon-composite materials help reduce mass and give the EV-STER impressive handling capabilities which are further optimized by a driver-adjustable suspension system.
While Honda offered no specifics on the car's aft-mounted electric motor, it is energized by a compact 10kWh lithium-ion battery pack with a maximum output of 58kW/78-hp. That's sufficient to take the EV-STER from 0-37 mph in 5.0 seconds and on to a top speed of 100 mph. Although equally circumspect about details, Honda did note that an EV-STER driver also would be able to make adjustments to motor output, a fact that bodes well for the prospects of any future production version to offer considerably more impressive performance numbers. The EV-STER's range is estimated at about 100 miles on the Japanese JC08 cycle, and recharging will take less than six hours on a 120V outlet, less than half of that on a 240V line.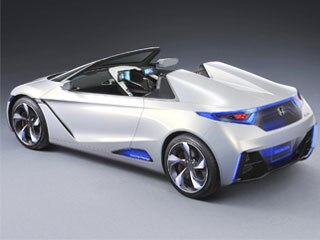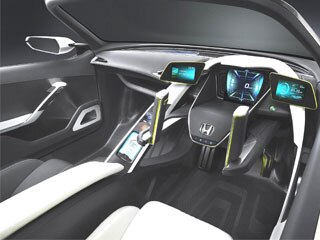 Inside, the EV-STER's cabin features a joystick-style twin-lever steering wheel alternative. Its simplified array of gauges and graphic displays let the driver focus on the most important functions while being able to directly access the audio and navigation systems as well as stay connected to the internet. We'll just have to wait to see if this modern-day alternative to the iconic Honda S2000 ever makes it beyond one-off status.