Detroit Auto Show Top 10 #2 | Next: #1>>
Showcasing the two-door side of the 2012 Civic lineup in its most intense form, the Honda Civic Si Concept displays an even-more-assertive design language than the Concept Sedan. Aimed at younger and more overtly enthusiast buyers, all versions of the new 2012 Honda Civic Coupe will share much of this higher-energy exterior treatment, regardless of trim level.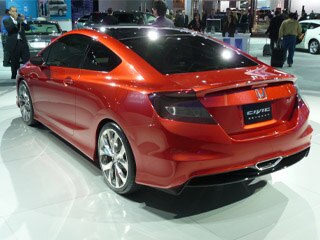 The bolder front quarters on this production-ready 2012 Civic Coupe precursor display a more angular character while a faster windshield, sweeping roofline and prominent rising shoulder ridge coupled with dramatic side-body contouring combine to create a far more aggressive appearance that will be found throughout the lineup. To put a proper exclamation point on the primo Civic Si variant, Honda plans to fit it with a unique rear air diffuser, large, center-mounted exhaust outlet and integrated rear deck lid spoiler as seen on the Si Concept Coupe. Like the Civic Sedan Concept, we don't expect those 19-inch machined alloy wheels to appear on the 2012 Honda Civic Si's roster of standards or options when it goes on sale this spring.
>All Auto Shows | >Past Detroit Auto Shows | >Detroit Auto Show 2011