Honda Civic Concept Sedan - 2011 Detroit Auto Show
by
KBB.com Editors
|
January 10, 2011 10:24 AM
Offering a visual preview of what's to come in the spring, Honda revealed a forerunner of its new 2012 Honda Civic Sedan in concept form at Detroit and offered a few pertinent facts about what else we can expect to find in the ninth generation of its ever-popular, front-drive four-door. With its more aggressive styling, wide range of fuel-efficient powertrains and continuing solid value orientation, Honda is aiming the new Civic at an even broader group of buyers looking for an affordable yet fun-to-drive transport module.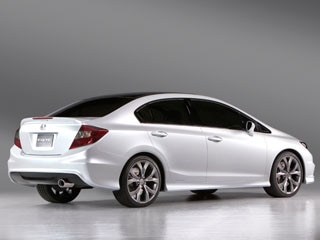 Although the Civic Sedan Concept retains Honda's "one-motion" mono-form basic shape, its far more aggressive rendering of all key details clearly indicates that the production follow-up will have a far higher profile than the current car. Edgier front/rear fascias, a more steeply-raked windshield, wider stance and bolder bodywork contours give the upcoming Civic Sedan a new level of street presence. Sadly, the Concept's 19-inch machined alloy wheels aren't likely to make it to the showroom, even on the range-topping Si version of the four-door.
The 2012 Honda Civic lineup will offer similarly good news underhood. Honda says its entire i-VTEC (intelligent Variable Valve Timing and Lift Electronic Control) engine family will be even more fuel efficient for the coming model year, and that the multi-mode Honda Eco Assist system already used on the CR-Z and Insight Hybrid models will be standard on most 2012 Civic models. In the alternative-powertrain arena, the new Civic Hybrid will be fitted with the latest version of the Honda IMA (Integrated Motor Assist) system and the 2012 will be the first to use a new lithium-ion battery in place of the current nickel-metal hybrid pack. Honda also plans to expand retail sales of its super-clean natural-gas powered Civic GX model.