Honda and Mazda back new low-cost 'B-spec' race series
by
KBB.com Editors
|
December 27, 2010 1:44 PM
Looking to showcase their own lines of affordable sporty cars and encourage other automakers to do the same, Honda and Mazda have announced the formation of a new entry-level Showroom Stock competition category that will use a common set of "B-Spec" rules designed to ensure close and cost-effective competition for vehicles that today comprise one of the largest and fastest-growing of all automotive categories.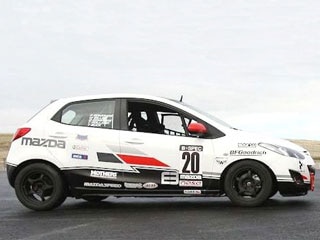 The two principals are currently working with an outside independent group to develop a final rules package, which is expected to be released within 60 days. Like other types of Showroom Stock categories, B-Spec will require the use of stock engines and strictly limit chassis changes to manufacturer-approved suspension components/wheels/tires along with the addition of a competition roll cage, racing seat and other mandatory safety equipment. Weight and weight distribution will be used to factor out any competitive advantages and the rules are being written to make them usable by any race circuit or sanctioning organization.

The first of these new B-Spec cars -- a MAZDASPEED-run MAZDA2 and a Honda Fit prepared and entered by Team Honda Research-West -- have already competed in the recent NASA (National Auto Sport Association) 25 hours of Thunderhill in Willows, California and the SCCA (Sports Car Club of America) also has expressed interest in seeing this category become part of its national racing slate. Nissan North America is already looking closely at the possibilities of seeing the Versa turned out as a B-Spec competitor, and with cars like the Chevrolet Aveo (and soon-to-be Sonic), Ford Fiesta, Hyundai Accent and Toyota Yaris also eligible, B-Spec shows real potential.