Has the new $30,000 Mercedes-Benz CLA earned its three-pointed star?
by
Jason Allan
|
October 3, 2013 10:14 AM
More than a fancy badge in the neighborhood of mainstream money, the CLA is indeed a premium experience that's also fun to drive.
After a two-decade run as the baby in the family, the Mercedes-Benz C-Class has been relegated to middle-child status with the introduction of the CLA-Class. But while the CLA is indeed smaller and more affordable than the C-Class, the new addition is also lighter on its feet, more stylish inside and out and isn't the "cheap" Mercedes we feared it might be. The new CLA is indeed worthy of its three-pointed star, and perhaps your entry-lux dollars.
Small Mercedes in a Nutshell
The 2014 Mercedes-Benz CLA 250 starts at about $31,000 with destination charges, and tops out around $45,000 fully loaded. Expect to pay something closer to $35,000 for a popularly equipped version, or build and price your own CLA to get an even better idea. It's also worth pointing out that the Kelley Blue Book number crunchers predict strong resale values for the CLA.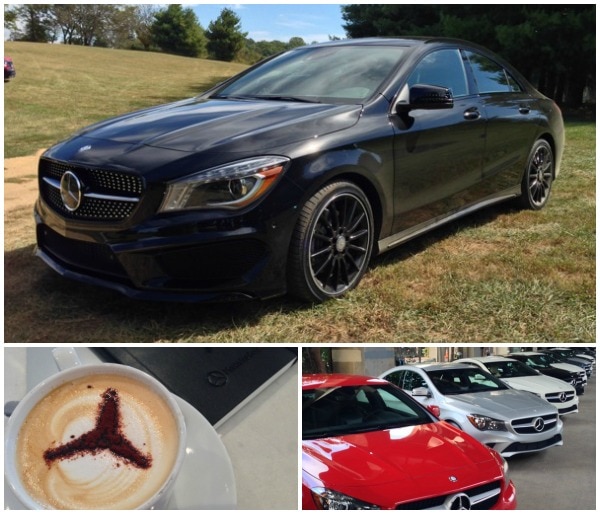 Although the CLA-Class is actually longer than its C-Class big brother, it's much smaller inside. In fact, the CLA has less headroom, legroom and cargo space than the subcompact Honda Fit. But we spent six hours in the car during our most recent stint with it in Washington, D.C., and Virginia, and never felt cramped or confined in front. Most of the practical compromise affects the back seat and trunk.
The CLA 250 is powered by a new 2.0-liter turbocharged 4-cylinder engine good for 208 horsepower and 258 lb-ft of torque, matched with a 7-speed dual-clutch automatic transmission. Together they help launch the car to 60 mph in 6.9 seconds and return impressive city/highway/combined fuel economy of 26/38/30 mpg. The front-drive-based CLA 250 will also be available with all-wheel drive starting in the first half of 2014.
Something Seems Different
Close your eyes while driving a CLA 250 and you might guess you were behind the wheel of an Audi. On second thought, don't do that. The CLA is the first front-drive Mercedes this country has ever seen, and it has a lighter, more responsive feel than any other sedan in the Mercedes lineup. The 7-speed dual-clutch automatic transmission isn't as quick-shifting as others we've driven, but we found it refreshingly smooth to engage from a stop — a common weakness of dual-clutch units. The turbocharged 4-cylinder engine is similarly strong, steering and pedal feel are notably good, and even if the smaller, sportier CLA isn't as smooth on the highway as the automaker's other sedans — the ride can get very un-Mercedes-like over rough roads — quality seats help qualify it as comfortable enough to satisfy the buyers for which it's built.
Let's Move Inside
"Does the interior feel cheap?" That was the $30,000 question heading into our first encounter with the CLA, and we were relieved to discover a freshly styled passenger cabin with none of the overtly downscale touches that have plagued similar efforts in the past. Contrary to our fears, the CLA's interior vibe counts as one of the cars strengths. The coupe-like profile takes a toll on rear headroom — six-footers might want to take their own car, even for a short ride — and the trunk isn't particularly generous, but style almost always has a price.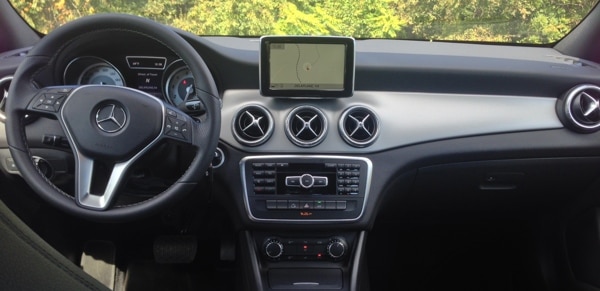 Extra-strength Edition
The CLA is also available in a high-performance version, but at a much higher price: The 2014 Mercedes-Benz CLA45 AMG starts at $45,000 and tops out closer to $60,000. Like the CLA 250, the AMG-tuned CLA is powered by a 2.0-liter turbo 4-banger, but it's a hand-built variation that Mercedes claims to be the most powerful 4-cylinder engine available in a production car. Able to manufacture 355 horsepower and 332 lb-ft of torque, Mercedes says the signed and numbered engine will power the more sinister CLA to 60 mph in a scant 4.5 seconds, with help from the added traction of standard all-wheel drive and a performance-tuned version of the same dual-clutch transmission in the CLA 250.
A Common Dilemma
More than a new combination of capital letters from Mercedes-Benz, the CLA is an all-new model in an all-new segment for the automaker. Now you can get into a Mercedes for the price of a well-equipped Honda Accord.
But should you?
On one hand, a $30,000 Accord is roomier, more comfortable and actually has more luxury-like features — leather, moonroof, navigation, app integration — than you'll find in a $30,000 CLA-Class.
But even at its base price, the CLA 250 is way more stylish and far more fun to drive than any mainstream midsize sedan, plus, oh yeah, it's a Mercedes-Benz.
The low-$30,000 price range is full of such mainstream vs. luxury brand dilemmas. Fortunately there are always several right answers, and the new 2014 Mercedes-Benz CLA-Class is now one of them.
Where to Next?
See the forthcoming CLA-based crossover SUV, the 2015 Mercedes-Benz GLA
Check out the 2015 Audi A3 Sedan heading our way in 2014
Consider the less fancy but more affordable Acura ILX or Buick Verano
Build and price a 2014 Mercedes-Benz CLA-Class with your choice of features