Hands-free motoring moves one step closer to reality
by
KBB.com Editors
|
January 24, 2011 1:19 PM
Although even its strongest proponents admit that the day that cars can literally drive themselves is still a number of years away, the concept has just taken one very significant preliminary journey down that long and potentially very serpentine road. An EU-financed consortium known as the SARTRE project (short for Safe Road Trains for the Environment), successfully completed its first real-world proof-of-concept at the Volvo Proving Grounds near Gothenberg, Sweden. There, a specially equipped Volvo S60 was able to demonstrate the basic principle of vehicle "platooning." Following behind a lead pilot vehicle -- in this case, a specially outfitted Volvo truck -- the S60 managed to perform all of the requisite fundamental functions without any input at all from the person behind the steering wheel. Although similar demonstrations had been carried out previously, all had been confined to the world of computer simulators.
"We are very pleased to see that the various systems work so well together already the first time," says Erik Coelingh, engineering specialist at Volvo Cars. "After all, the systems come from seven SARTRE-member companies in four countries. The winter weather provided some extra testing of cameras and communication equipment."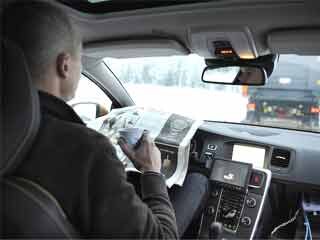 Proponents of vehicle platooning claim these guided "road trains" will yield numerous tangible benefits, not the least of which is eliminating the human factor that is the cause of some 80 percent of all accidents. They also contend that it can generate up to a 20 percent savings in fuel use and a commensurate cut in CO2 emissions. Beyond that, they see the optimized vehicle spacing that extended road trains will create as helping reduce overall road congesting while allowing the now-redundant driver to use commuting time in a much more productive manner.
Substantially funded by the European Commission under the Framework 7 program, SARTRE is led by Ricardo UK Ltd. in collaboration with Idiada and Robotiker-Tecnalia of Spain, the Institut für Kraftfahrwesen Aachen (IKA) of Germany, the SP Technical Research Institute of Sweden and Volvo Car Corporation and Volvo Technology of Sweden. Its stated goal is to "encourage a step change in personal transport usage through the development of safe environmental road trains."
SARTRE is currently exploring ways to implement platooning on un-modified public highways using techniques that will permit transparent interaction with non-platooned vehicles. Tom Robinson, SARTRE project coordinator, of Ricardo UK sees these latest results as a major milestone in the program. "With the combined skills of its participating companies, SARTRE is making tangible progress towards the realization of safe and effective road train technology." While this first test was undeniably encouraging, the actual adoption process for platooning still must overcome many potential challenges, from consumer confidence in and acceptace of its abilities to gaining formal legal approvals for consideration by various European governments.