Future Vision: smart 341 Parkour Concept
by
KBB.com Editors
|
November 23, 2011 9:17 AM
For the past eight years in conjunction with the Los Angeles Auto Show, the Design Los Angeles automobile designers' conference has held its annual Design Challenge competition in which various manufacturer studios create vehicles to match a given theme. This year, the brief was to come up with "Hollywood's Hottest New Movie Car," and teams from General Motors, Honda, Hyundai, Mercedes-Benz Germany (Smart), Mercedes-Benz Japan (Maybach), and Mercedes-Benz U.S. all rose to the occasion.
When the judging concluded, it was the smart 341 Parkour Concept that rolled, flew and climbed off with the win. The multifaceted skills of this diminutive variation on the smart fortwo theme are suitably reflected in an animated trailer "Annie get the Grannies!" that accompanied the entry.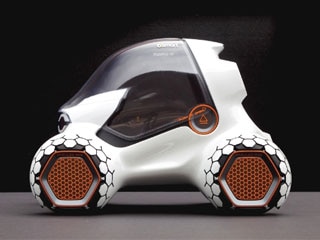 "This year's theme presented these designers with creative challenges like never before," said Chuck Pelly from Design LA. "Not only were studios tasked with designing a futuristic Hollywood vehicle, but also the complex plots within which they starred. The smart 341 Parkour captured the essence of the Design Challenge by combining innovation and functionality with an adventurous plot." Others on the prestigious panel of judges included Tom Matano, director of Industrial Design at San Francisco's Academy of Art University; Imre Molnar, dean of Detroit's College for Creative Studies; and Stewart Reed, chairman, Transportation Design at Pasadena's Art Center College of Design as well as Jay Shuster, Art Director at Pixar Animation Studios.