Future Vision: Mercedes-Benz Aria Concept 'Swan Wing'
by
KBB.com Editors
|
May 18, 2011 6:44 PM
Created by student Slavche Tanevski as part of his bachelor thesis at the Munich University of Applied Sciences, the striking Mercedes-Benz Aria Concept "Swan Wing" is a highly detailed study that depicts what an electric-powered Mercedes-Benz vehicle might look like, circa 2030. Tanevski developed and refined his Aria Concept under the direct guidance of Mercedes-Benz designers.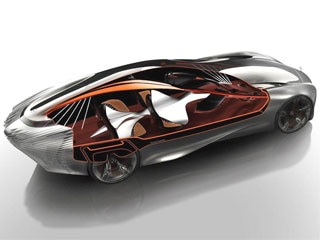 In attempt to create a vehicle that would encompass timeless form as opposed to mere fashion, Tanevski turned to the design of classic musical instruments for overall inspiration, while focusing on the organic shape of hair being blown by the wind to inspire the body contours -- which also pay an intentional homage to the dynamic flair and proportions of the classic Mercedes-Benz 500K Roadster. Exterior detailing of the Aria Concept includes functional outboard air intakes up front and atop the rear fenders that feed cooling air to the brakes and to the electric motors that are fitted directly to each wheel. Elegant five-spoke rims with unique copper-wire detailing reflect the electric nature of the Concept Aria, which also uses copper windings in the drive motors and as part of the internal skeletal structure of the vehicle itself.
Entry to the Aria Concept's equally stunning four-place cabin is via a pair of extended two-piece "Swan Wing" doors. Inside, the car features a modular interior that's anchored to a bespoke copper matrix which allows for interchangeability of individual elements to meet specific owner preferences. Here, Tanevski carried over the flowing character of the exterior and rendered it using copper and aluminum to depict strength, leather and Piano Black as symbols of quality while incorporated a natural wood floor reminiscent of a yacht deck as the elegant finishing element of the open and airy passenger compartment.