Future Vision: Family Dynamic Concept
by
KBB.com Editors
|
July 6, 2011 2:03 PM
A former toy designer at Lego Industries and postgraduate student in vehicle design at the prestigious Royal College of Arts in London has earned a pair of top honors at the 2011 Pilkington Vehicle Design Awards. Adam Phillips' dramatic interpretation of a mobile home away from home rolled off with both Best Overall Design and Best Use of Glazing honors at the 2011 Pilkington Vehicle Design Awards held annually in conjunction with the RCA. The twin win marked the first time in the influential competition's 24-year history that a single entry was deemed best in both of those categories.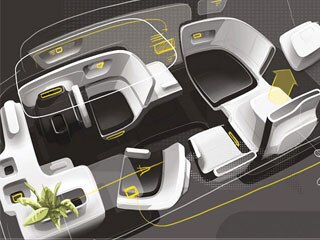 Although its extensive use of panoramic glass exterior panels clearly found favor with the judges, the Family Dynamic Concept's open and flexible interior architecture which seeks to provide a near-unlimited degree of social interaction potential for its all of its passengers also was viewed as one of Phillips' masterstrokes. The living space was inspired by a modern lounge and features a full-length interactive wall display with a tactile interface that can simultaneously handle a host of different infotainment applications plus easily reconfigurable modular seating/storage elements that can be arranged to fit the specific needs of its owner in the most user-friendly manner possible.
"Current interiors of vehicles promote an outdated family dynamic, with one person -- the driver -- being handed all of the focus and responsibility," observed Phillips. "Nowadays however, children have much more influence and freedom. My design mimics life in the home, where the occupants have greater interaction." Phillips offered no word as to what kind of powertrain he envisioned for his exceptionally personable people mover.
The panel for this year's Pilkington Vehicle Design Awards included
Earl Beckles, chief of Jaguar Advanced Design, McLaren Automotive designer Hong K. Yeo and David Wilkie, studio design director at Mia Electric as well as Paula Hilditch, global product manager at Pilkington Automotive.