Full-size Pickup Truck Comparison: Third Place
by
KBB.com Editors
|
June 22, 2010 2:55 PM
Third Place: 2010 Chevrolet Silverado 1500
Strengths: Solid, proven value; full complement of safety features
Shortcomings: Good, but not outstanding in any area
Synopsis: Available any way you might want it
The three domestic models were closely grouped at the top of the score sheets, with little to choose among them. It is difficult to imagine some possible configuration which the Chevy Silverado 1500 does not offer. There's the expected Regular Cab, Extended Cab and Crew Cab; four trim levels – Work Truck, base LS, up-level LT and luxury-level LTZ; cargo-bed lengths of six-and-a-half feet or eight feet; and no less than four engine choices, including the most powerful engine in the category.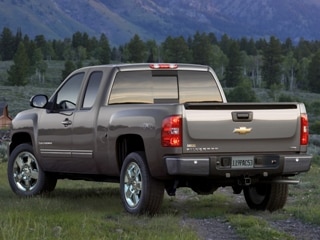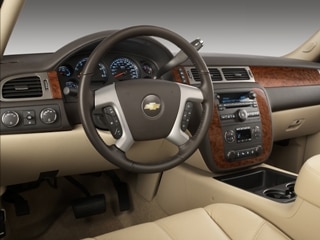 A 4.3-liter V6 of 195 horsepower, a 4.8-liter V8 of 302 horsepower, a 5.3-liter V8 of 315 horsepower and a king-of-the-mountain 6.2-liter V8 with 403 horsepower and 417 pound-feet of torque – this last has more horsepower and torque than any other engine in the class and is available only with the Extended Cab or Crew Cab. The V6 is fitted with a four-speed automatic and the V8s have a six-speed automatic, and the V8s offer E85 compatibility while the 4.8 and 5.3-liter engines have variable valve timing. There is also a Silverado 1500 Hybrid.
We evaluated a Silverado 1500 in the Extended Cab configuration, with the 5.3-liter engine, four-wheel drive and an option list that included the Z71 Off-Road Suspension Package and the Power Plus Package, with a locking rear differential. The Silverado was rated highly for its driving dynamics and value, and was also one of only two (the other being the Toyota Tundra) which earned full marks for its full set of safety features. Standard equipment on all Silverado 1500 models is GM's StabiliTrak electronic stability control, which includes the functions of anti-lock brakes and traction control and helps the driver maintain control, especially on slippery surfaces.
A part of the Chevrolet Silverado's appeal is the wide choice of engines, which is unmatched in the class for both power output and variety; with the Chevy 1500, there really is an engine for any foreseeable requirement. The Silverado is built on a fully-boxed frame, and is also available with five different suspension tuning choices, optimized for general use, a smooth ride, trailer towing, street handling or off-roading. One nice feature of the Silverado 1500 Extended Cab model is that the rear doors open almost to 180 degrees, making getting in or out, or loading cargo, particularly easy. Chevrolet has been building trucks for a long time and the Silverado remains a known quantity and proven value in this highly competitive segment.
Chevrolet Silverado 1500 Test Rankings (Overall Editors' Rating: 80.0)
Editors' Recommendation: 3rd
Exterior: 4th
Interior: 4th
Driving dynamics: 3rd
Value: 1st
Safety: 1st (tie)
Crash Test Ratings: 2nd (tie)