Full-size Pickup Truck Comparison: Second Place
by
KBB.com Editors
|
June 22, 2010 3:29 PM
Strengths: High on driving dynamics; appealing design
Shortcomings: Not many
Synopsis: A slightly different take on the American full-size pickup
The Ram is from the truck manufacturer formerly known as Dodge; in the restructuring of Chrysler the Dodge nameplate now appears only on cars and the trucks are under the Ram brand name. But never mind; the heritage is the same. And, describing the Ram as finishing in Second Place is a very close call, indeed.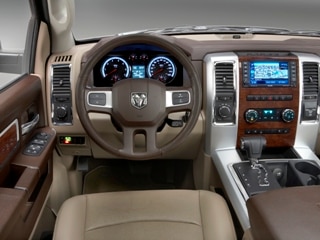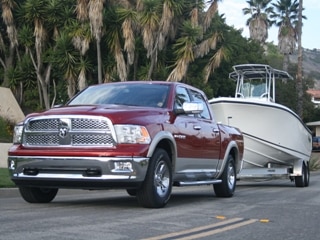 Configurations for the Ram include Regular Cab, Quad Cab (bigger than an extended cab, and with forward-hinged rear doors) and the Crew Cab. The engine choices are a 3.7-liter V6 of 215 horsepower, a 4.7-liter V8 of 310 horsepower and the famous 5.7-liter HEMI of 390 horsepower; the V6 is matched with a four-speed automatic and the two V8s have a five-speed automatic. Depending upon cab configuration there are three cargo box lengths, of five feet, seven inches (Crew Cab), six feet, four inches (Regular and Quad Cabs) and eight feet (Regular Cab only).
There is technological advancement underneath the Ram. There's a fully boxed frame made from hydroforming, but the biggest difference is the rear suspension. For decades pickup trucks have had rear suspension systems of leaf springs, but the Ram has coil springs and a multi-link arrangement to locate the rear axle. The advantage of this system, in conjunction with the stiffness of the fully boxed frame, shows up clearly in ride and handling qualities, as the Ram was the favorite in driving dynamics. It rides smooth on just about all surfaces and seemed more controlled on rough roads. It also handles very nicely, going down the highway smoothly and having manners and handling much more in line with what would be expected from a car. If you would spend most of your time driving the truck with little or a light load, the Ram could be for you. Yet, with the power of the available Hemi, it should tow any trailer that's reasonable for a full-size pickup.
The Ram also earned high marks for its attractive interior and its many innovative features. The RamBox Cargo Management System consists of two lockable, waterproof, drainable storage boxes built into the tops of the sides of the cargo box; they can be used for tools, golf bags, dirty clothes or filled with ice and soft drinks, and then drained when the ice melts. The system also includes sliding tie-down cleats. Inside, standard equipment includes dual glove boxes, on four-door models there are folding rear seats with under-seat storage, all models offer an available two-tier center console with power outlet and Crew Cab models include, as standard, clever in-floor storage compartments that can hold ice and be removed for cleaning. All that, and a HEMI, too.
Ram 1500 Test Rankings (Overall Editors' Rating: 83.8)
Editors' Recommendation: 2nd
Exterior: 3rd
Interior: 2nd
Driving Dynamics: 1st
Value: 2nd
Safety: 4th
Crash Test Ratings: 2nd (tie)