Full-size Pickup Truck Comparison: Fourth Place
by
KBB.com Editors
|
June 22, 2010 2:32 PM
Fourth Place: 2010 Toyota Tundra
Strengths: Powerful, smooth powertrain; comprehensive safety features
Shortcomings: Not as configurable as the domestics
Synopsis: Fourth place, but one of the four worth considering
Toyota spent a lot of time working up to the full-size pickup market and has profited from that experience. The first attempt, the T100, was about a three-quarter scale full-size pickup and underpowered, but quite a few of them are still providing reliable service. The original Tundra, about a decade ago, was closer, with a smooth available V8, but was still seen as about seven-eighths scale. The current Tundra is the real deal. It's big, smooth, comfortable and capable.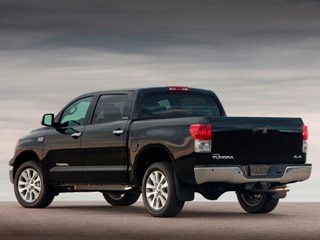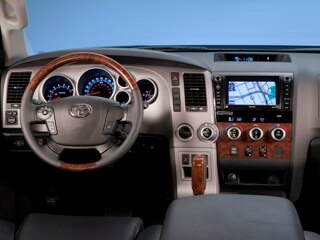 The Tundra is offered in three cab configurations: Regular Cab, Double Cab (extended cab, but with forward-hinged rear doors) and full four-door CrewMax. There are two trim levels, Tundra and Tundra Limited, and short and long cargo beds. The Tundra offers a wide range of powerplants: A base 4.0-liter V6 of 236 horsepower, an available 4.6-liter V8 of 310 horsepower and a very robust 5.7-liter V8 of 381 horsepower and 401 pound-feet of torque. The V6 has a five-speed automatic and the two V8 engines have a six-speed automatic. The 4.6-liter V8 is new and delivers commendable fuel economy figures.
The Tundra we tested was a CrewMax Limited with the 5.7-liter V8 and four-wheel drive. This is about as much Tundra as you can get. It rated high in areas of fit and finish and perceived quality, which are Toyota trademarks, and was also liked for its power, acceleration and powertrain. It was also one of only two that earned perfect scores for its full complement of safety features, the other being the Chevrolet Silverado.
Underneath the Tundra is a frame in three sections. The front section is fully boxed; the middle section, under the cab, is a C-section with a rolled lip; the rear section is a conventional C-section. Toyota says this frame design optimizes the distribution of the loads and improves ride quality for the passengers. The Tundra is also full of features and details, such as double-loop front tow hooks, to increase the options for pulling something out of, or being pulled out of, a tough spot. Inside, the instrument panel has big knobs for ease of use while wearing gloves, there is an available filing-cabinet center console and, in the CrewMax version, the rear seats fold over to a flat surface and rear-seat passengers have nearly four feet of available legroom. Out back is a damped tailgate designed to be easy to lower and lift, and the front brakes are big 13.9-inch diameter rotors with four-piston calipers. The forward-hinged doors on the Double Cab are also an interesting alternative for an extended-cab truck, and may be more appealing to some buyers.
The current Tundra, Toyota's first truly full-size pickup, shows the results of a lot of development on the concept, and is certainly not lacking in power, quality or safety features.
Toyota Tundra Test Rankings (Overall Editors' Rating: 75.6)
Editors' Recommendation: 4th
Exterior: 2nd
Interior: 3rd
Driving dynamics: 4th
Value: 4th
Safety: 1st (tie)
Crash Test Ratings: 5th