Fourth Place: 2011 Chevrolet Cruze LTZ
by
KBB.com Editors
|
August 17, 2011 12:01 PM
Strengths: The inside story - quiet, comfortable, stylish - is excellent
Weaknesses: Frustratingly low fun-to-drive factor
Synopsis: The Chevy Cruze just misses being very good by thaaat much
It's impossible to know for sure how Chevy Cruze sales might have fared in a world that never suffered a devastating earthquake in Japan that hobbled Honda Civic production over the past five months, but the fact remains: The Chevrolet Cruze is selling hot like fire. (Our test car was priced at $23,565.)
The 2011 Chevy Cruze LTZ that came to do battle in our comparison is a good example of why it's a popular choice - the Cruze is an easy place to relax.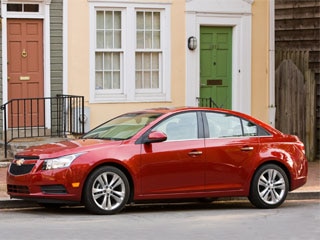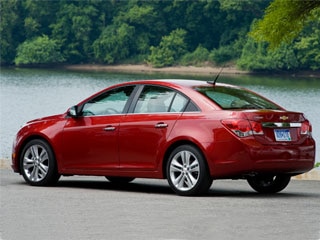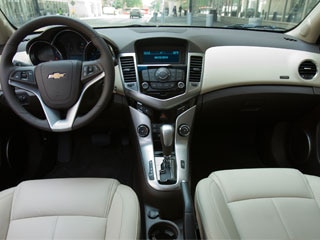 For starters, the standard leather interior is one of the nicer environments we've seen in this class. The front seats took top honors in the competition for support and comfort over the long haul, and the interior design was easily up to the competitive standards set by the class. In the rear seats, headroom abounds, but like every vehicle in this test, long legs had no room to stretch.
In our back-to-back drives, the Cruze tied with the Honda Civic for ride comfort and as being the easiest car to see out of and maneuver through traffic. But the Chevy stood alone at the top of the quiet standings, making it a cinch to have a regular conversation with your passengers even blasting along at highway speeds.
Despite having a turbocharger attached to its 1.4-liter four-cylinder engine and a 6-speed automatic transmission, the Chevy Cruze LTZ powertrain didn't gain our favor, either in sprints or while trying to accelerate to escape the gravity of slower cars on the Interstate. Having standard sport suspension and 18-inch wheels, on the other hand, did move the Cruze LTZ up in our esteem, giving it sporting authority in corners.
Just below the clean-if-not-flashy exterior lines of the Chevy Cruze LTZ skin, there lurks a safety story that stands tall all on its own. Superb five-star frontal and side-impact results can be your best friends on a bad day. A full guard of airbags - including side-impact protection for the outboard rear passengers - add to a rather impressive protection roster.
Certainly, the elements are all there to put the 2011 Chevrolet Cruze LTZ on America's compact-sedan wish list. It belongs in the bigs. But until the Chevy Cruze really excels at something, something that raises it above all of its unforgiving competitors, Chevy will have to console itself with healthy sales rather than comparison-test wins.
Comparison Test Results: 2011 Chevrolet Cruze LTZ
Overall Editors' Rating: 6.7 out of 10
Interior: 2nd
Exterior: 4th
Performance: 4th
Comfort & Convenience: 3rd
Value: 3rd
Read Consumer Reviews for the 2011 Chevrolet Cruze LTZ
NEXT: Third Place
PREVIOUS: Introduction
Introduction
Fourth Place: 2011 Chevrolet Cruze LTZ
Third Place: 2012 Ford Focus SEL
The Winners, Part One: 2011 Hyundai Elantra Limited
The Winners, Part Two: 2012 Honda Civic EX-L Navi
See a side-by-side specs comparison of all four cars in our test.