Ford will add 1.0-liter EcoBoost I-3 and new eight-speed automatic
by
KBB.com Editors
|
June 3, 2011 10:30 AM
Cranking up its efforts in the increasingly critical mileage-maxing arena, Ford Motor Company has announced several significant additions to its global powertrain lineup that promise to enhance both efficiency and performance of its vehicles. Topping the list is the automaker's first-ever three-cylinder engine, a new and super-efficient 1.0-liter EcoBoost that's destined to replace existing small-displacement four-cylinder engines at the lower end of the FoMoCo range. Ford also plans to add a pair of new transmissions to its product mix, an eight-speed conventional automatic and an advanced electronically controlled CVT (Continuously Variable Transmission) designed specifically for use in hybrid vehicles.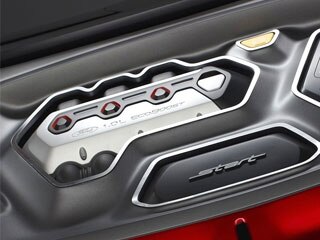 Under development for several years the Ford's global center for excellence in small-capacity engines at Dunton, England, the new 1.0-liter EcoBoost inline-three is the latest iteration of the engine that appeared in the Ford Start Concept car presented at the 2010 Beijing Auto Show. While full details must wait until its official reveal the Frankfurt Auto Show in September -- including when it will first appear in a production model -- Ford did release several pertinent facts about this tech-rich motivator. According to Derrick Kuzak, Ford group vice president of Global Product Development, "it will deliver horsepower and torque outputs equivalent to or better than most normally aspirated 1.6-liter gasoline engines" while providing a more cost-effective alternative for consumers seeking hybrid-like fuel economy numbers.
To obtain those operational capabilities, Ford's development team focused on improving thermal efficiency and reducing internal friction of the engine while still taking full advantage of the basic EcoBoost formula that matches turbocharging, direct-injection and twin-independent variable camshaft timing. Highlighting the long list of tech tricks is a Ford-designed split cooling system that allows the block to be warmed more quickly than the head and helps save fuel and lower relative emissions on cold starts. This new inline-three also uses a one-piece cylinder head/exhaust manifold casting that helps lower exhaust gas temps and permits the engine to run in a wider rev band at optimum fuel/air ratios as well as a more efficient offset crankshaft design.
Joe Bakaj, Ford vice president of Global Powertrain Engineering, indicates that technological advances being introduced on this powerplant could be incorporated into many of the company's future engines, as well. Drivers are going to like the new 1.0-liter EcoBoost engine for many of the same reasons the EcoBoost F-150 is such a big hit. It will deliver great low-speed responsiveness, power, torque and smoothness."
Still undergoing development and with a similarly unspecified introduction date, a new Ford-designed eight-speed automatic transmission also will become an integral part of the automaker's worldwide lineup. It incorporates features like closed-loop controls, a new generation of more precise clutch mechanisms and integrated hydraulic actuators and a special input torque sensor that enables quicker, smoother gear selection with less "hunting."
Rounding out the hardware mix is a new Ford-designed e-CVT that's slated to go start production late this year and go into full volume build during in the first quarter of 2012. No tech specifics were offered at this time, save for the fact that it will replace the current Japan-sourced CVT used in various Ford and Lincoln hybrid models and offer "improved performance" over the existing transmission. The new e-CVT will be assembled at the Van Dyke Transmission Plant in suburban Detroit.