Ford Vertrek Concept - 2011 Detroit Auto Show
by
KBB.com Editors
|
January 10, 2011 5:13 AM
Detroit Auto Show Top 10 #5 , Next: #4>>
Based on the ubiquitous global C-platform that has already spawned the new Focus and C-MAX families, the Ford Vertrek Concept was created to serve as the basis for a compact utility vehicle that will have global appeal in its design, engineering and in its technology. A de facto forerunner of the next-generation Ford Escape and its European Kuga counterpart, the Vertrek Concept melds dynamic visuals, exceptional people/cargo space and class-leading fuel economy into a package that Ford execs will use as a sounding board as they seek to reach new buyers in a segment that has more than doubled in size in the U.S. since 2000 and enjoyed equally robust growth in Europe and Asia.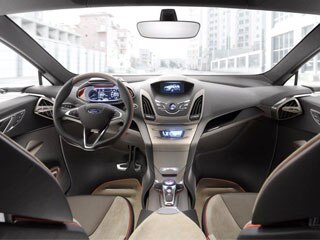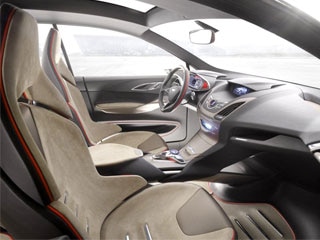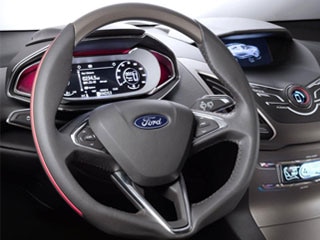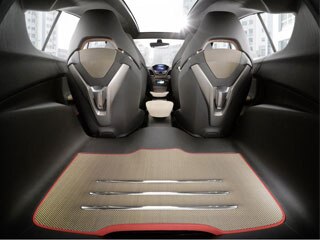 Jim Farley, group vice president, Global Marketing, Sales and Service summed up the purpose of the exercise noting. "The Ford Vertrek Concept will allow us to hear directly from potential customers about trade-offs they are prepared to make as we look to deliver a future production model that brings to life all these attributes."
Exciting appearance
Embracing a look that tastefully treads a fine line between evolutionary and revolutionary, the Vertrek embodies Ford's latest take on its kinetic design language. Despite the heightened sense of visual drama present in its signature trapezoidal grille treatment, raised hood surfaces, prominent wheel arches and flowing shoulder and rooflines, the Vertrek boasts aero numbers that are more than five percent better than the current Escape/Kuga.
The Vertrek's interior extends the kinetic modeling theme with equally distinctive executions of the dash and four individual slim-line bucket seats. The former, loaded with MyFord Touch technology, is finished in Dusk Grey leather, as is the equally friendly center console that extends all the way into the rear passenger area. Each seat is covered in naturally-tanned velour leather hide inset with metal accents. Woven leather flooring surfaces replaces traditional carpeting throughout the Vertrek's cabin while neon red-orange fluorescent highlights add one more eye-catching detail to the mix. Style aside, the Vertrek provides the same amount of usable people and cargo space as the current Escape with the rear seats up or folded (and 10-20-percent more than the current Kuga) and its large, single- piece hatch cutout facilitates loading/unloading chores.

Outstanding fuel economy

To address the increasingly critical question of operating efficiency, the Ford Vertrek Concept relies on a 1.6-liter EcoBoost four-cylinder engine matched with a six-speed dual-clutch automatic transmission, one bit of show-car tech we can expect to find whatever production variant it may spawn. In Europe, the company will offer its 2.0-liter Duratorq TDCi turbodiesel in the Kuga successor.
To help bump its mileage making capability even further, the Vertrek also is fitted with the Ford Auto Start-Stop system, a feature the automaker recently announced will be rolled in across its lineup in the next several years. In addition to increasing mpg by up to 10 percent in city driving conditions, Start/Stop also can trim up to five percent of normal CO2 emissions in mixed-operating mode. To help cope with the added battery demands Start/Stop brings, the Vertrek also boasts Smart Regenerative Charging that increases alternator output whenever the vehicle slows down or brakes.
While some degree of design refinement/reshuffling is certain to take place before the Vertrek morphs into its ultimate volume-build form, it appears Ford is seriously committed to making its next-gen Escape a true benchmark in the compact SUV segment.
>All Auto Shows , >Past Detroit Auto Shows , >Detroit Auto Show 2011