Ford to triple its American EV/Hybrid production capacity by 2013
by
KBB.com Editors
|
June 10, 2011 1:18 PM
Moving proactively to better meet what it sees as changing consumer demand as well as to help bolster its own CAFE numbers, Ford Motor Company has committed to tripling the output capability of its expanding electrified vehicle fleet here in the U.S by 2013. This decision will give FoMoCo the potential to turn out over 100,000 EV and hybrid models each year, up from the current 35,000-unit level -- a figure spearheaded by the sales of the Ford Fusion Hybrid and Ford Escape Hybrid. It will most directly impact the future of the 2013 C-MAX Energi plug-in hybrid and 2013 C-MAX Hybrid models, both of which were already scheduled to begin rolling off of the assembly line of the automaker's ultra-efficient Michigan Assembly Plant early next year. That facility currently is home to the Ford Focus and Focus Electric models and will become the first plant in the U.S. to turn out gasoline, hybrid and pure EV vehicles.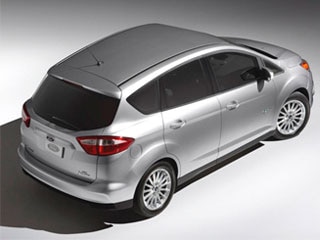 As part of this new North American vision for the C-MAX, Ford has scrapped its original plan to import the larger seven-passenger Grand C-MAX microvan that would have been powered by a four-cylinder gasoline engine. Instead, these smaller, greener, five-seat versions of the basic C-MAX platform will be used to better support the firm's well-publicized One Ford world marketing strategy as well as becoming the automaker's first dedicated body style that offers buyers here a range of electrified vehicles.
"Customers have come to expect fuel efficiency with every new vehicle Ford delivers today, and now we are further differentiating our electrified vehicle lineup with something else people truly value -- choice," said Jim Farley, Ford's group vice president of Marketing, Sales and Service. While offering few new tech details on either vehicle, Farley did note that the C-MAX Hybrid will be able to travel even faster on pure EV power than the 47 mph best of the current Fusion Hybrid and that Ford is engineering the C-MAX Energi to deliver greater overall driving range than any other plug-in or extended-range electric vehicle. It also will feature a 240V charging system that can replenish its lithium-ion (Li-ion) battery more quickly that a Chevrolet Volt.
In upping its commitment to electrification, Ford also plans to add over 220 new green-tech jobs to its Michigan workforce. The Li-ion battery packs for both the C-MAX Energi plug-in hybrid and gasoline/electric C-MAX Hybrid will be produced at its Rawsonville Plant in Ypsilanti while the Van Dyke Transmission Plant in Sterling Heights will turn out electric drive transaxles.