Ford looks to dandelions as renewable source of synthetic rubber
by
KBB.com Editors
|
May 16, 2011 7:45 AM
Teaming with researchers from Ohio State University, Ford Motor Company is currently conducting experiments that it hopes will see one of the most common weeds on the planet become a ready and readily renewable resource for the production of synthetic rubber. The dandelion -- and in this case, a Russian species known as kok-saghyz (TKS), which is being grown at Ohio State University's Ohio Agricultural Research and Development Center (OARDC) -- has been found to have a root structure that produces a milky-white substance that can be used to produce a cleaner, greener version of this staple of today's auto industry.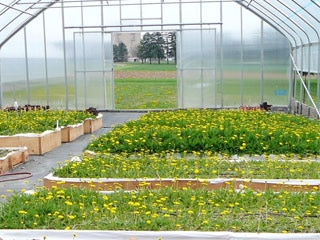 "We're always looking for new sustainable materials to use in our vehicles that have a smaller carbon footprint to produce and can be grown locally," said Angela Harris, Ford research engineer. "Synthetic rubber is not a sustainable resource, so we want to minimize its use in our vehicles when possible. Dandelions have the potential to serve as a great natural alternative to synthetic rubber in our products."
According to Harris, this new strain of dandelion-sourced synthetic rubber could lead to a reformulated and more resilient form of plastic that would be suitable for use in components like cupholders, floormats and various interior trim bits. Ford and the OARDC are also looking into the possibilities of guayule, a shrub commonly found in the southwestern part of the U.S., which also shows promise as a source of synthetic rubber. "It's strange to see weeds being grown in perfectly manicured rows in a greenhouse, but these dandelions could be the next sustainable material in our vehicles," said Harris.