Ford Evos Concept -- Frankfurt Auto Show
by
KBB.com Editors
|
August 31, 2011 4:51 PM
Opening a new chapter in the automaker's international design saga, the Ford Evos Concept is intended to serve as a mobile test bed for advanced powertrain and connectivity features as well as to preview the look of tomorrow's Blue Oval offerings. A consensus highlight of the Blue Oval show stand in Frankfurt, Derrick Kuzak, Ford's group vice president of Global Product Development, made it clear that that this stunning four-passenger, four-door gasoline/electric plug-in is destined to play a pivotal role in the firm's future products.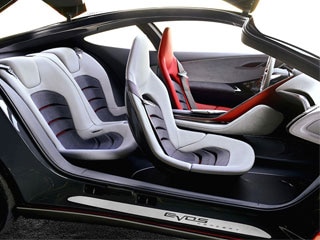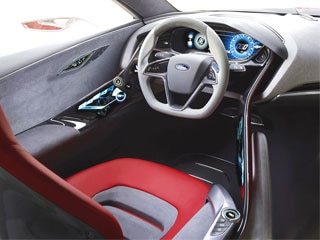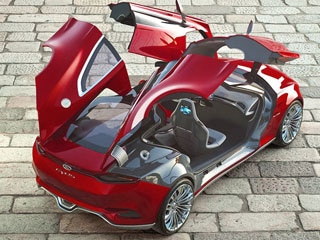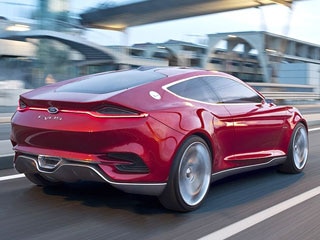 "With its compelling design and innovative technology experience, this is a clear demonstration of the exciting vision we have for the Ford brand. While you will never see this car on the road, the next generation of Ford products around the world will display many of the distinctive design ideas and advanced technologies it showcases."
Ford offered no projected performance figures for the Evos Concept, but its state-of-the-art "Powersplit" Hybrid system is expected to be a more-potent variation on the plug-in package slated for Ford's upcoming C-MAX Energi crossover that matches a 2.0-liter Atkinson cycle Duratec four-cylinder with an electric motor energized by an advanced lithium-ion battery pack.
As for the visual aspects of this striking fastback GT, J Mays, group vice president, Design and Ford's chief creative officer describes the new exterior styling on the Evos Concept as "a bold evolution of the current kinetic design language seen on the current Fiesta and Focus." Key elements in what Ford is calling its first truly global styling DNA are evidenced in the car's dramatic proportions -- the Evos is as long as a Focus but as wide as a Fusion -- more refined surfaces, powerful-yet-elegant technical graphics and most critically, in its recast front fascia. Dubbed "the new face of Ford," it retains the signature inverted trapezoidal grille opening, but tweaks its scale and positions it higher above ground level to create what Mays calls a more "visually premium" character. And if that's not enough, the Evos also boasts four gullwing doors that afford easy access to its equally-distinctive passenger compartment.
Inside, the Ford Evos Concept brings together an elevated sense of style with unprecedented potential for interactive connectivity between man, machine and the outside environment. On a strictly utilitarian level, the driver occupies a cockpit-like environment highlighted by a flat-bottomed multifunction steering wheel, reconfigurable LED main gauge displays, well-positioned ancillary controls and a deeply contoured "hot seat" accented in bright red leather. That unique crimson cue sets it apart from the three remaining perches rendered in the charcoal-and-grey motif that characterizes the rest of the cabin. In addition to their individually-adjustable bucket-style rear seats, each of the aft passengers also has access to a dedicated touch-screen display capable of linking them to various in-vehicle systems.
Moving beyond those not-so-basic elements, the Evos features a number of innovative techno touches aimed at seamlessly enhancing the overall driving experience by personalizing it and adapting it to ultimately deliver an overall experience that will surprise and delight. Under the direction of Paul Mascarenas, chief technical officer and vice president of Ford Research and Innovation, the global R&I team developed a unique interactive "cloud-connected" system that aims to simplify life and reduce stress for the driver by its autonomously-intelligent responses to repetitive patterns.
Correlating direct driver input on variable elements like suspension/ steering/braking feel and engine controls, with supplemental data from the external cloud database including current traffic patterns, weather conditions and travel schedules, the Evos can learn from -- and then conform to -- a specific operator's preferences. As Mascarenas notes: "The car gets to know you and can act as a personal assistant to handle some of the usual routines of a daily commute." A big part of that charm includes real-time optimization of the car's hybrid powertrain operation. That capability promises to extend the total driving range well beyond 500 miles as well as automatically switching into a low- or zero-emissions operating mode when and where local statutes may require.
The Evos has one more trick up its tech-rich sleeve: a driver-wellness system that can keep tabs on both the physical state and workload of the individual behind the wheel -- then perform a series of compensating adjustments. This stress-lessening capability incorporates features like a heart-rate monitor, on-board sensor/filtration elements that seamlessly react to a sudden drop in cabin air quality, and the ability to limit distractions by turning off various dash displays and locking out cell phone connectivity under certain high-intensity driving conditions.
So when will elements of the Evos Concept start making it to the streets? Sooner than you might imagine. According to Mays, who claims that 70-percent of what appears on the Evos is destined to turn up on future Ford production models, "you'll start seeing the first products to feature this design DNA in four months, not four years." If that proves to be the case, expect Ford to make an equally big splash at the 2012 Detroit Auto Show in January.