Five Star Safety Ratings Overhauled for 2011
by
KBB.com Editors
|
October 1, 2010 6:05 PM
NHTSA gives NCAP much-needed update
Since 1978, the National Highway Traffic Safety Administration (NHTSA) has regulated vehicle safety in this country, providing the five-star safety ratings that are on every new car window sticker in dealerships. But after 32 years, the system was in need of a makeover as safety technologies became more advanced and studies showed that more testing criteria were needed. For the 2011 model year, NHTSA's New Car Assessment Program (NCAP) will include a new side-pole crash test. Also, data on Forward Collision Warning (FCW), Lane Departure Warning (LDW), and Electronic Stability Control (ESC) systems will be incorporated into testing, and NCAP will provide an all-new comprehensive five-star safety rating of a vehicle on new car window stickers and on safercar.gov.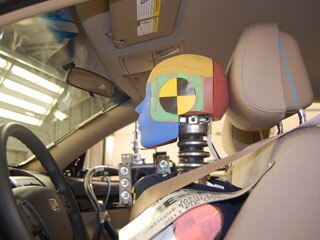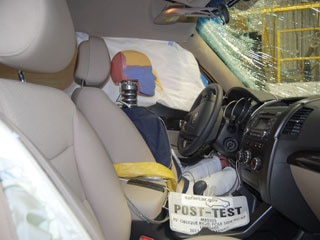 New crash test ratings are more comprehensive
Currently there are five tests rated by NCAP on new vehicles: Front-crash driver and passenger, Side-crash front and rear seats, and rollover. With the updates for the 2011 model year, a side-pole crash rating and an overall ratings score will also be added. In addition to these ratings, which will be visible on all 2011 model year Monroney window stickers, there are also behind-the-scenes changes to the crash test process. Crash testing is now done on dummies of different sizes, so that data can be collected on how injuries differ between smaller and larger people during impact, as well as tests incorporating high-tech crash avoidance technologies.
Old Ratings will not be changed
NCAP will remain the same for all previous model years, but as new 2011 vehicles are tested, it is likely vehicles may receive lower ratings than they did in 2010. This is due in large part to the new, rigorous testing guidelines for 2011 as well as the expanded data collection from these tests. NHTSA is hoping to test sixty-percent of light vehicles for 2011, giving priority to vehicles with predicted high sales volume and those that have been structurally redesigned. Because of budgetary constraints, NHTSA is unable to test every vehicle on the market; all vehicles sold in the U.S. must meet Federal Motor Vehicle Safety Standards.
NCAP's higher standards mean safer roads
As vehicle safety technologies change and improve, it is important that NHTSA hold vehicles to higher and higher standards and the new NCAP does just that. Manufacturers will in turn make improvements to each new vehicle's safety features to improve NCAP test scores. By conducting testing with dummies of varying sizes, vehicles with crash-avoidance features and a new side-pole crash test, NHTSA is bringing the five-star ratings system to the twenty-first century and is ultimately making driving on U.S. roads safer than ever.